In May, the 11th and 12th grade members of our Advanced/Design Build crew were invited to rebuild timber fencing at the Wawona Visitor's Center in Yosemite National Park! Led by instructors Emily Pilloton-Lam and Hallie Chen, our crew arrived on-site on Friday morning to meet the Volunteer Coordinator, Park Ranger, and trail crew members.
Without missing a beat, we got to work. The damaged fence was initially built in 1960, and although it sorely needed an upgrade, we had to comply with strict historical preservation guidelines to uphold the traditional design style of the Wawona area. Through rain, sleet, and snow, our intrepid teens hauled new timbers to replace the base beams and horizontal spans. The work included cutting timbers to size, carefully stacking them in a split-rail zig zag pattern without hardware, and using hog wire only when necessary to secure the overlap joints and end posts.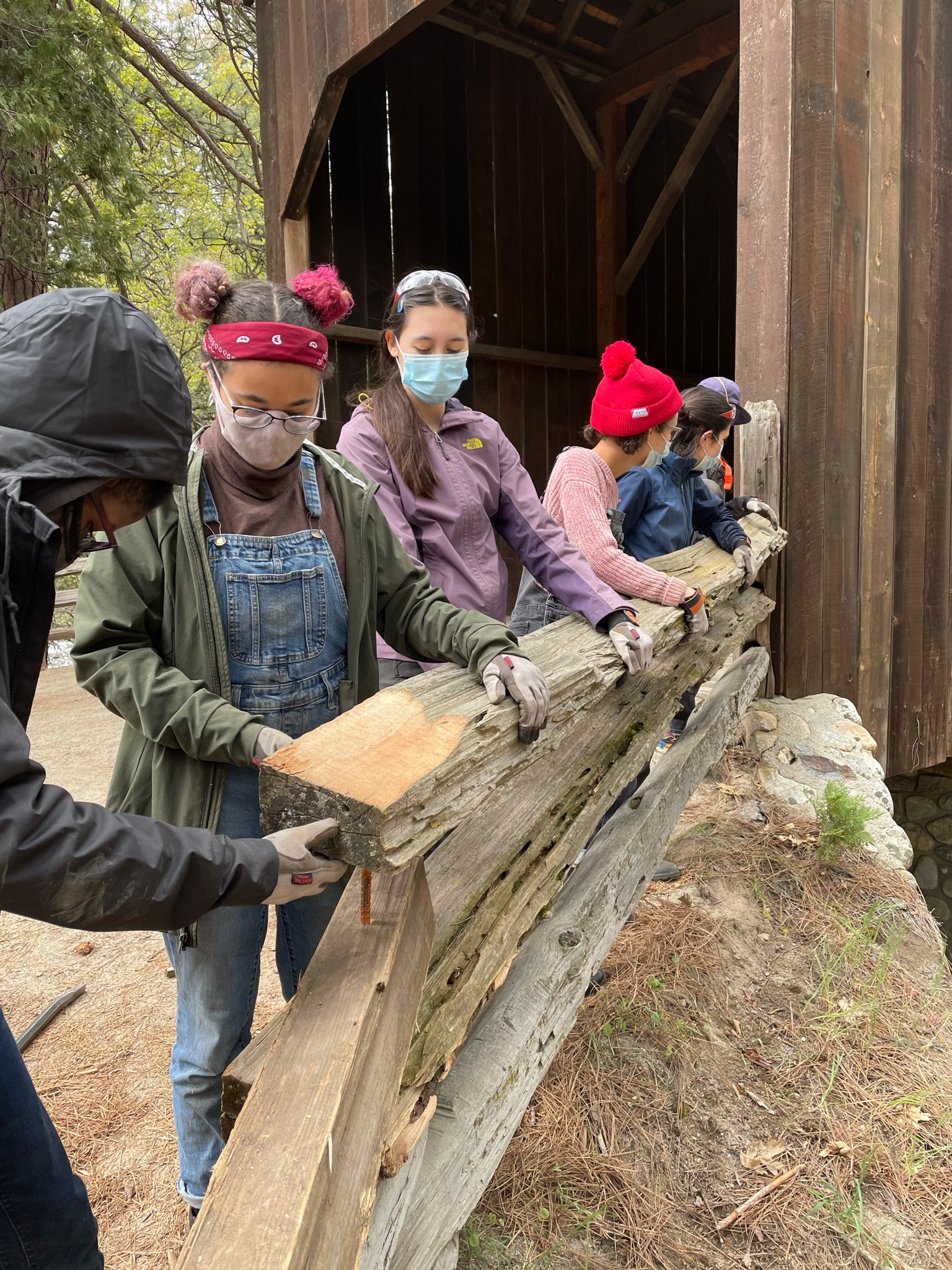 By the end of the day, they'd reconstructed 150 feet of fence around the center's perimeter, road, and entryway. To say that the Yosemite trail crew members—three men—were impressed would be an understatement. "A full crew of 10 of our guys wouldn't have gotten as much done!" one said. On Saturday, we picked up right where we left off. All told, we reconstructed over 200 feet of new fence. The Yosemite employees and volunteers were thrilled.
The weekend was a perfect alchemy of manual labor and quality time. In between bouts of hauling timbers at Wawona, we hiked through towering redwoods, jumped in the ice-cold Tuolumne River, made homemade pizza, and watched Ratatouille while applying face masks. Even though this group of girls, gender-expansive youth, and instructors have known each other for years, our weekend in Yosemite allowed for a different sort of connection. When you're out in nature, muddied and tired yet still invigorated, time moves differently. Hours pass in the blink of an eye, but the moment of sunset over harsh granite peaks lasts an eternity. We're grateful for the opportunity to share such moments of beauty among friends, and to put our building skills in service of something larger than ourselves.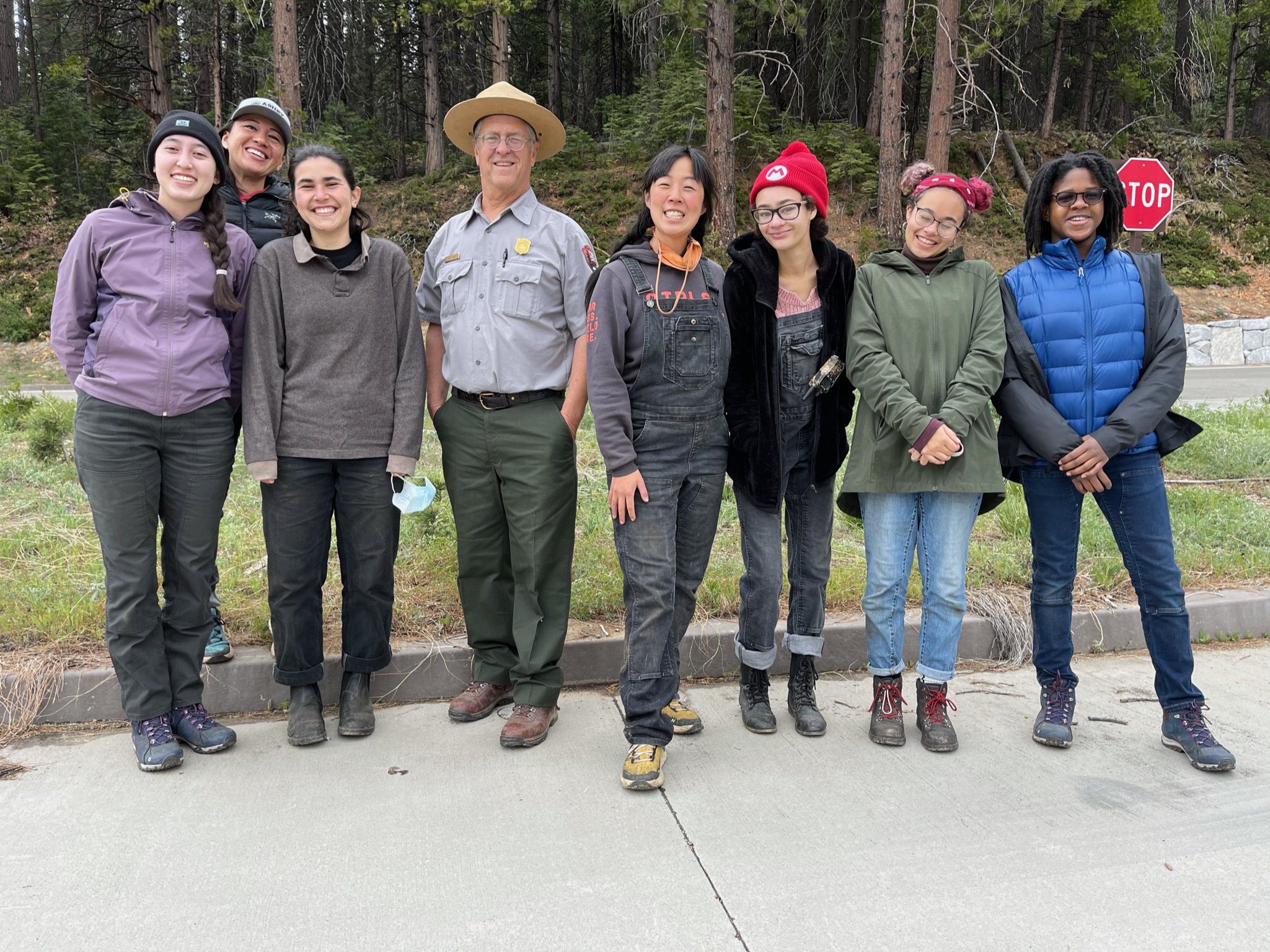 Over lunch one day, Emily read aloud her favorite poem, "To Be Off Use" by Marge Piercy. It felt particularly apt to our work at Yosemite and back in the Bay Area, in our 3,600 bright workspace, where we commit to the daily rituals of building and working with our communities, doing "what has to be done, again and again."
To be of use
BY MARGE PIERCY
The people I love the best
jump into work head first
without dallying in the shallows
and swim off with sure strokes almost out of sight.
They seem to become natives of that element,
the black sleek heads of seals
bouncing like half-submerged balls.
I love people who harness themselves, an ox to a heavy cart,
who pull like water buffalo, with massive patience,
who strain in the mud and the muck to move things forward,
who do what has to be done, again and again.
I want to be with people who submerge
in the task, who go into the fields to harvest
and work in a row and pass the bags along,
who are not parlor generals and field deserters
but move in a common rhythm
when the food must come in or the fire be put out.
The work of the world is common as mud.
Botched, it smears the hands, crumbles to dust.
But the thing worth doing well done
has a shape that satisfies, clean and evident.