Over two weeks in June, 29 teen girls and gender-expansive youth participated in our Young Women's Design + Building Institute. They came to Girls Garage from all over the Bay Area—Richmond, El Cerrito, Oakland, Vacaville, Hayward—and beyond. Every year in Young Women's Design + Building Institute (YWDBI), diverse cohorts of young womxn design and build a real-world project for a local nonprofit client over the course of just five days. Previous projects featured building furniture for a local women's shelter, sandboxes and wind sculptures for a preschool, and building their own seats at the table. The program is free for participants and admission is based on application. 
This summer, our teen builders constructed a library space and created garden murals for a transitional housing shelter in West Berkeley run by our community client BOSS (Building Opportunities for Self-Sufficiency). Each day was split into a morning and afternoon session, where the girls either built furniture at Girls Garage or were on-site at BOSS, painting the garden murals.
Constructing Library Furniture
In the carpentry and woodworking sessions, instructors Emily Pilloton-Lam, Augusta Sitney, and Allison Oropallo taught our fearless teen builders how to safely use different power tools, like the miter saw, circular saw, drill and impact driver. Thanks to the success of our Fearless100 Toolbox fundraiser, each YWDBI participant received their very own fully-stocked toolbox and used these new tools to build throughout the week.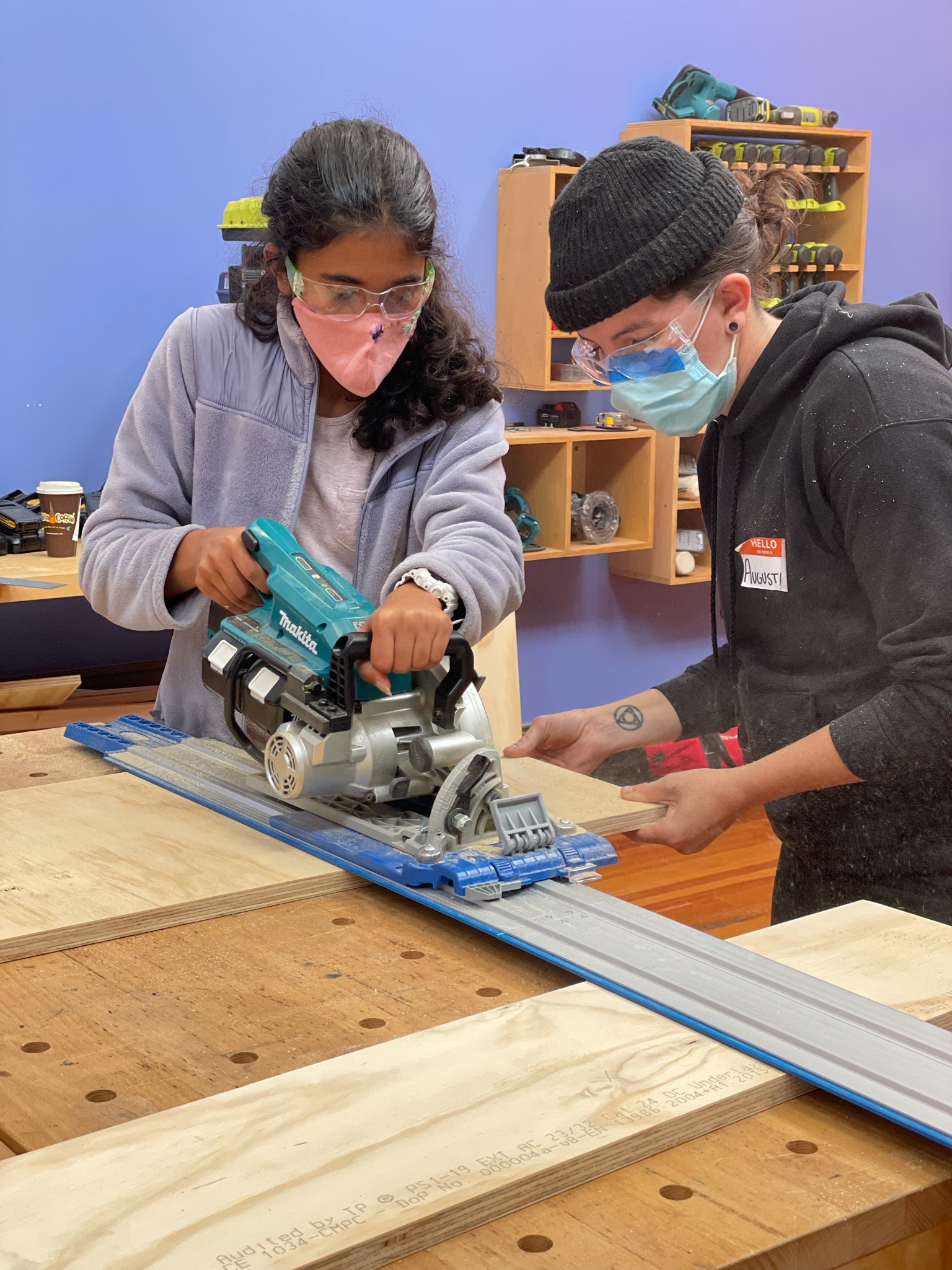 On the first day, our teens built their own wooden boxes, a project simple enough to complete in a few hours but complex enough to demonstrate the basics of building. In the following days, the teens worked in small groups to construct and paint the book benches, book shelves and displays, all designed with casters to be mobile. As the week unravelled, the camaraderie deepened. Conversation ranged from silly "Would you rathers?" to discussing the trials and tribulations of Zoom school to collaborating on a Spotify playlist.
By the end of the week, our teens proudly presented the new library space to our clients at BOSS, including the residents. "I loved seeing all of the people at BOSS, especially the kids," one of our teens said afterwards. "It made me so happy and emotional to see them in the library space."

Garden Murals Galore!
The garden murals project happened on-site at BOSS's Ursula Sherman Village, just a few blocks away from Girls Garage! Inspired by bright colors and simple shapes, our arts instructor HyeYoon Song designed the 6 graphics based on the elements plants (and humans) need to thrive: sun, soil, air, water, nutrition, and love.
Alongside instructor Maya Vilaplana (a longtime Girls Garage instructor who flew out from New York to work YWDBI!), Hye divided the teens into small groups and assigned them each a box to tape off, prep, and paint for the week. Using a mixture of medium-sized paintbrushes (with their handles cut off for better precision!), small rollers, and tiny watercolor brushes, our teens laid down bright fields of color onto the fiberglass garden boxes, taking care to paint within the boundaries of the tape and to touch up any mistakes. Painting was an exercise in precision and patience for our teens.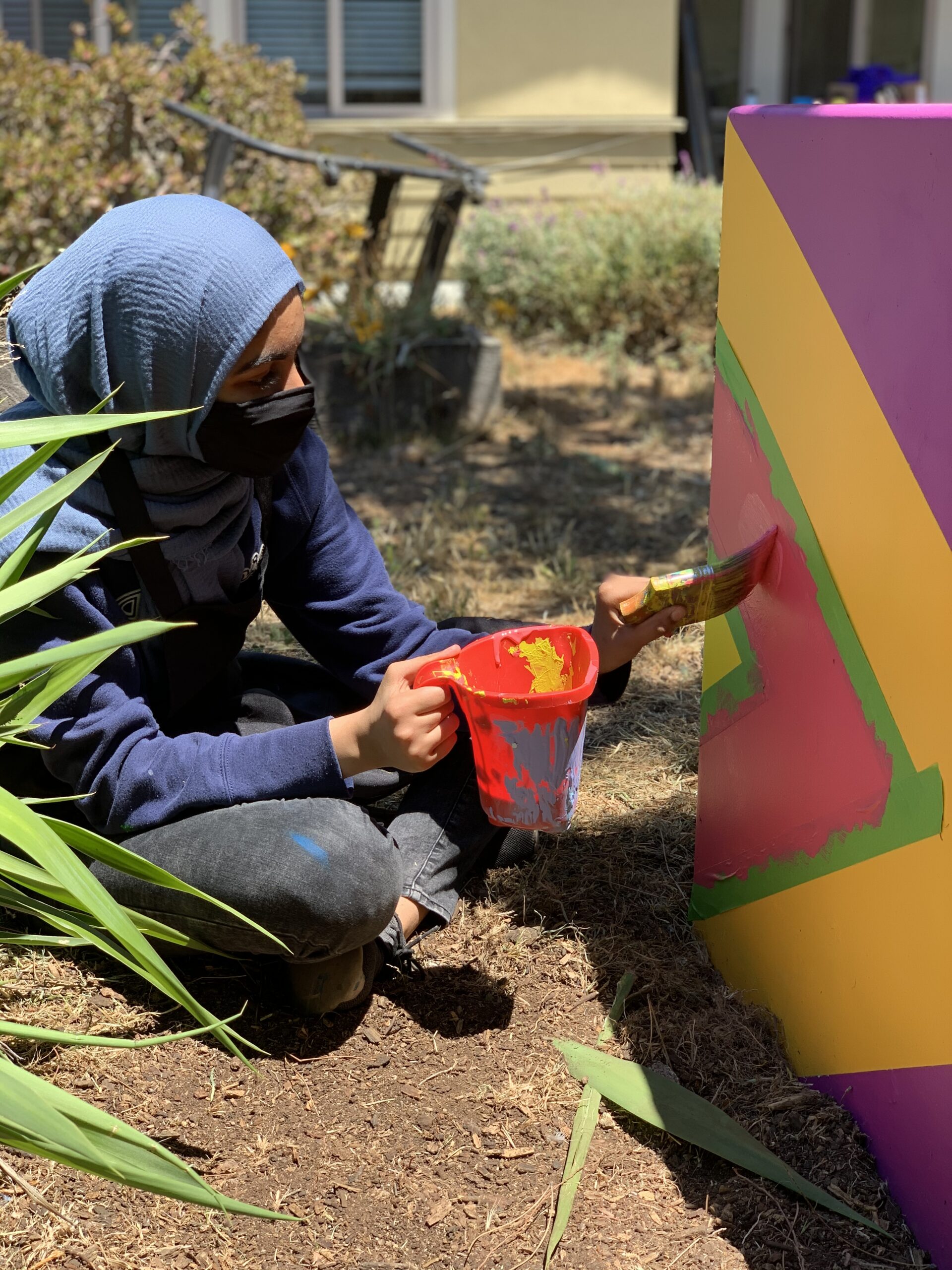 Every day, BOSS employees and residents stopped by the murals to chat with our teen artists and instructors, provide juice boxes, and express their delight at the artistic renovation. "Looking at them gives me life," an elderly resident confessed. Connecting with folks at BOSS provided our teens the opportunity to witness the positive impact of their work in real-time.
Why It Matters
The gender breakdown in STEM industries is bleak. Only 27% of the STEM workforce is female, and 50% of women leave the field within a decade. In the introduction to the Girls Garage book, Emily Pilloton-Lam writes:
Some chalk this [underrepresentation] up to "interest," claiming, "Girls just aren't into that." But we know that interest is influenced by factors that are more complex…what we see as "lack of interest" is actually code for "lack of warm welcome," or outright oppression and discrimination.
For many of our participants, Young Women's Design + Building Institute was their first opportunity to work in design, carpentry, and engineering. By the end of the week, almost every participant expressed newfound confidence and motivation in their own abilities. "I found my logic and problem-solving skills really came through in the woodshop," one builder said.
Providing opportunities for young womxn to experiment with building in a positive, supportive environment means breaking down the gender gap in STEM, and accordingly, in our physical world. "Going back to the theory of Man the Hunter, the lives of men have been taken to represent those of humans overall," Caroline Criado-Perez writes in Invisible Women: Exposing Data Bias in a World Designed for Men. "When it comes to the other half of humanity, there is often nothing but silence." By equipping girls and gender-expansive youth with (literal) tools, we're inviting them to shape and improve the physical world by utilizing their voice, power, and vision.