In our weeklong summer session of Advanced Design/Build, our teen girls and gender-expansive youth built a 200 square-foot greenhouse for Growing Leaders, a local youth gardening entrepreneurship program based out of Willard Middle School.
Our Advanced Design/Build program is a year-round cohort of our most committed builder girls. This cohort brings together 9th-12th grade girls and gender-expansive youth from diverse backgrounds to tackle complex, community-based projects designed and built by the teens themselves.
This summer session marked the first time all 11 builders worked together since the Urban Tilth Chicken Pavilion project last summer. During the school year, our Advanced/Design Build classes were split into two cohorts of 6 participants who met every other week. Shop and Project manager Augusta Sitney also joined the class for the first time after years of teaching Young Women's Design + Building Institute, and arts instructor Yétundé Olagbaju was instrumental in the mural creation.
It Takes a Village to Raise a Greenhouse
On the first day, our teen builders didn't miss a beat. With the help of instructors Emily Pilloton-Lam, Augusta Sitney, Allison Oropallo, and Hallie Chen, the group framed and raised six 8-foot wall panels using pressure treated lumber, all before lunch. After squaring the structure and installing temporary bracing, they were also able to install roof rafters with a hanger on the high wall of the shed roof and a birds mouth at the low wall. In the following days, they attached corrugated plastic panels for the roof, twin-wall polycarbonate panels for the siding, Z-bar flashing, and the mural panels on the bottom 3 feet of the greenhouse walls. The end walls were framed in situ, with a door header and custom-built doors that carry over the same mural graphics. The final touches including installing a solar thermostat fan and door hardware, as well as cleaning the windows.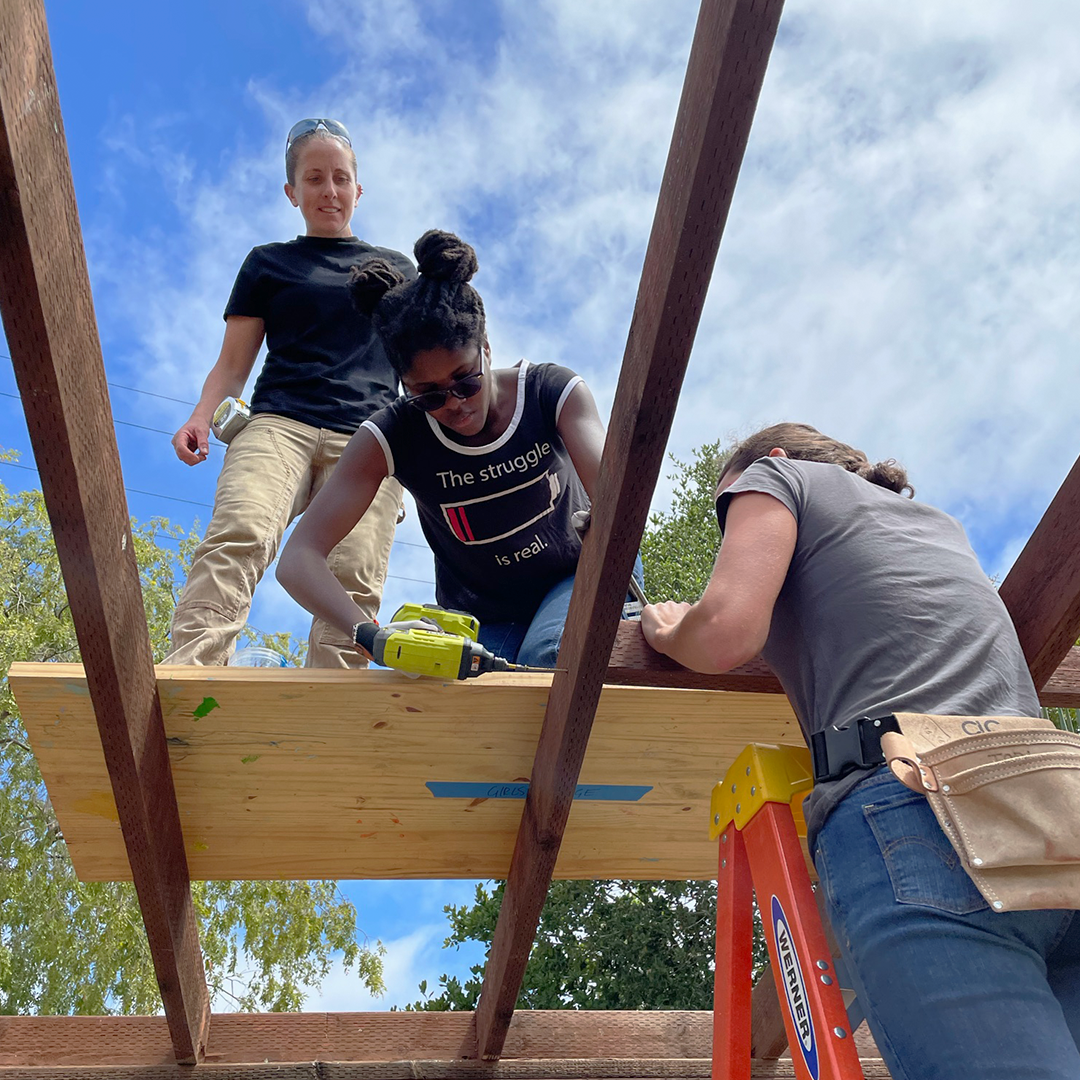 Painting a Garden Mural
For the greenhouse mural, arts instructor Yétundé Olagbaju designed a vibrant graphic 42-foot-long mural inspired by the rich colors of the Willard garden. Our instructors measured, primed, and taped the design so our teens could easily lay down the appropriate paint colors. With the assistance of Yétundé and our intern Charlene Din, our teens painted and applied clear coat paint to the mural, which they then attached to the greenhouse with blocking. As a focal point, the mural is a beautiful addition to the garden, and the Growing Leaders staff was especially touched that the artwork was grounded in "placeness."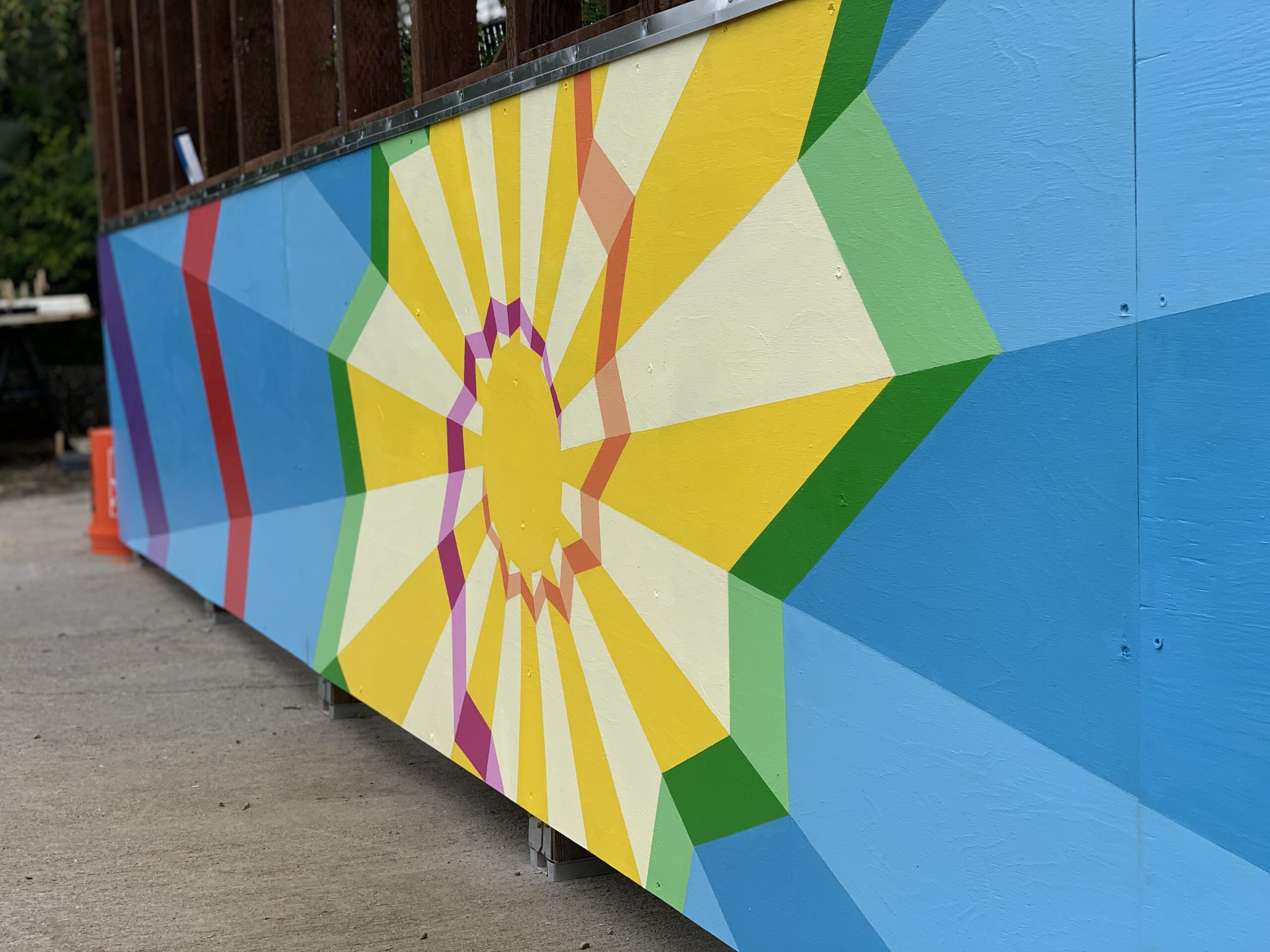 Why It Matters
The teen girls and gender-expansive youth in our Advanced Design/Build cohort are our most committed builders, and many of them have attended Girls Garage for years. To call their design and building portfolio impressive would be an understatement: they've built furniture for women's shelters, a parklet for a local restaurant, a 500 sq. foot chicken pavilion, and now, a full-scale greenhouse. They can wield a circular saw, frame a door, and install siding without breaking a sweat. They know how to work together to troubleshoot any problems that arise on a job site. Most importantly, they know how to harness their collective power (and power tools) to build a better world. With the new greenhouse, the youth at Growing Leaders will be able to start over 2,000 plants, the very same plants that will be cultivated at harvest season and donated to the local food pantry to feed our communities.
After a challenging year filled with online school, political upheaval, and climate disaster, our girls and gender-expansive youth demonstrated what resiliency actually looks like. Their determination and gritty optimism remind us what it means to be in service of our communities and our collective futures. At a time when our nation is trying to rebuild all that was lost in the pandemic, we look to these young people for guidance on how to build a braver new world for all people.