We rolled into 2021 in true Girls Garage style! Adapting to the changing conditions of the pandemic was challenging, but we cultivated the hope and optimism to keep building together. For our winter session, we offered small, socially distant in-person classes to 60 girls and gender-expansive youth. In the midst of chaos, we somehow managed to double our teaching capacity!
As always, our efforts to support and inspire our girls extended beyond our workspace walls. One parent wrote to tell us that after learning to weld, her daughter declared she was no longer afraid of taking a COVID test. For many of our girls, Girls Garage was their only in-person activity, and we were continually impressed and inspired by their enthusiasm and determination to create things that matter, especially when "normal" life still seems so far away.
---
In-Person Winter Classes
Advanced Design/Build (9th-12th grade girls)
In split-week, small group cohorts, our Advanced Design/Build girls juggled several community client projects this term. Their first project was to build distance learning desks for students at a local transitional shelter, BOSS (Building Opportunities for Self-Sufficiency). According to Jon-Mychal, the volunteer coordinator at BOSS, the Girls Garage desks were a "big, big upgrade" for the students! Instructors Emily Pilloton-Lam and Hallie Chen created the plans for the desk, which you can find here.
The class then transitioned into building wooden benches for our Youth Spirit Artwork's Tiny House village in East Oakland. They alternated "rib layers" of redwood 2x4s and painted pine 1×4 spacers to create a colorful visual profile. To keep everything flush and square, they practiced used the impact driver and speed square.
On the last day of class, each member received her very own fully-stocked toolbox, thanks to our successful Fearless100 campaign!
Advanced Print Shop (9th-12th grade girls)
On Tuesdays, a group of 5 girls convened in our upstairs art studio for Advanced Print Shop, our newest class! Taught by Arts Program Leader Yétundé Olagbaju, the class centered around the deep belief that self-definition is an act of protest for marginalized voices. Through experimenting with different artistic mediums (risograph, cyanotype printing, Van Dyke printing, and creative writing), students produced multiple visual pieces. The class will meet again in spring session to curate and create a hand-bound book.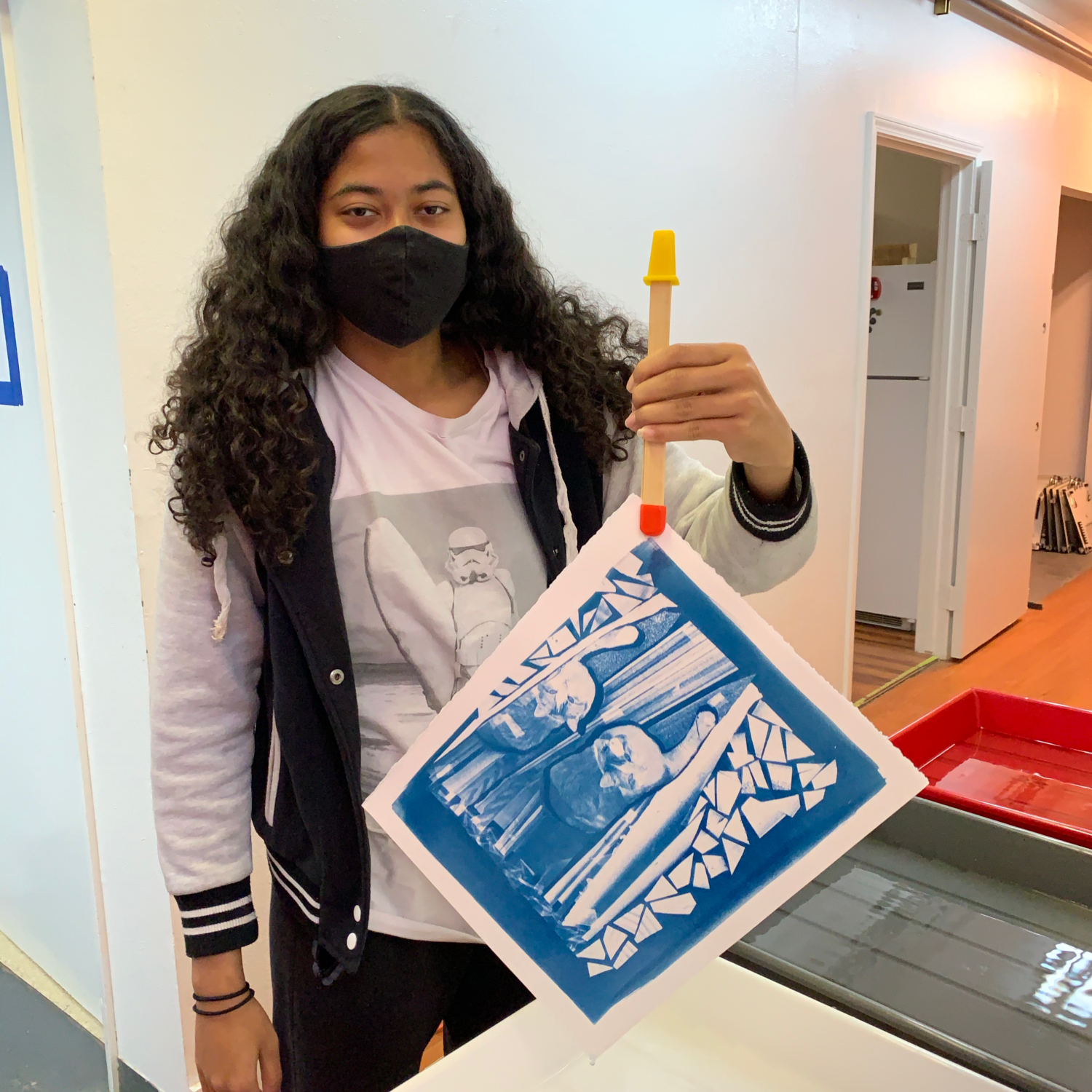 Afterschool Carpentry & Woodworking: (9- TO 13-YEAR-OLD GIRLS)
On Tuesdays and Thursdays, small cohorts of 4 girls and gender-expansive youth gathered at Girls Garage to learn the basics of power tools and MIG-welding to build their own hairpin leg tables. After 4 weeks of cutting and gluing lumber, bending steel legs and MIG-welding them to custom brackets, cutting the tabletops with the bandsaw, and using the impact driver to attach the legs, the tables were done! The class culminated in a small, 4-panel comic explaining the hairpin leg table process.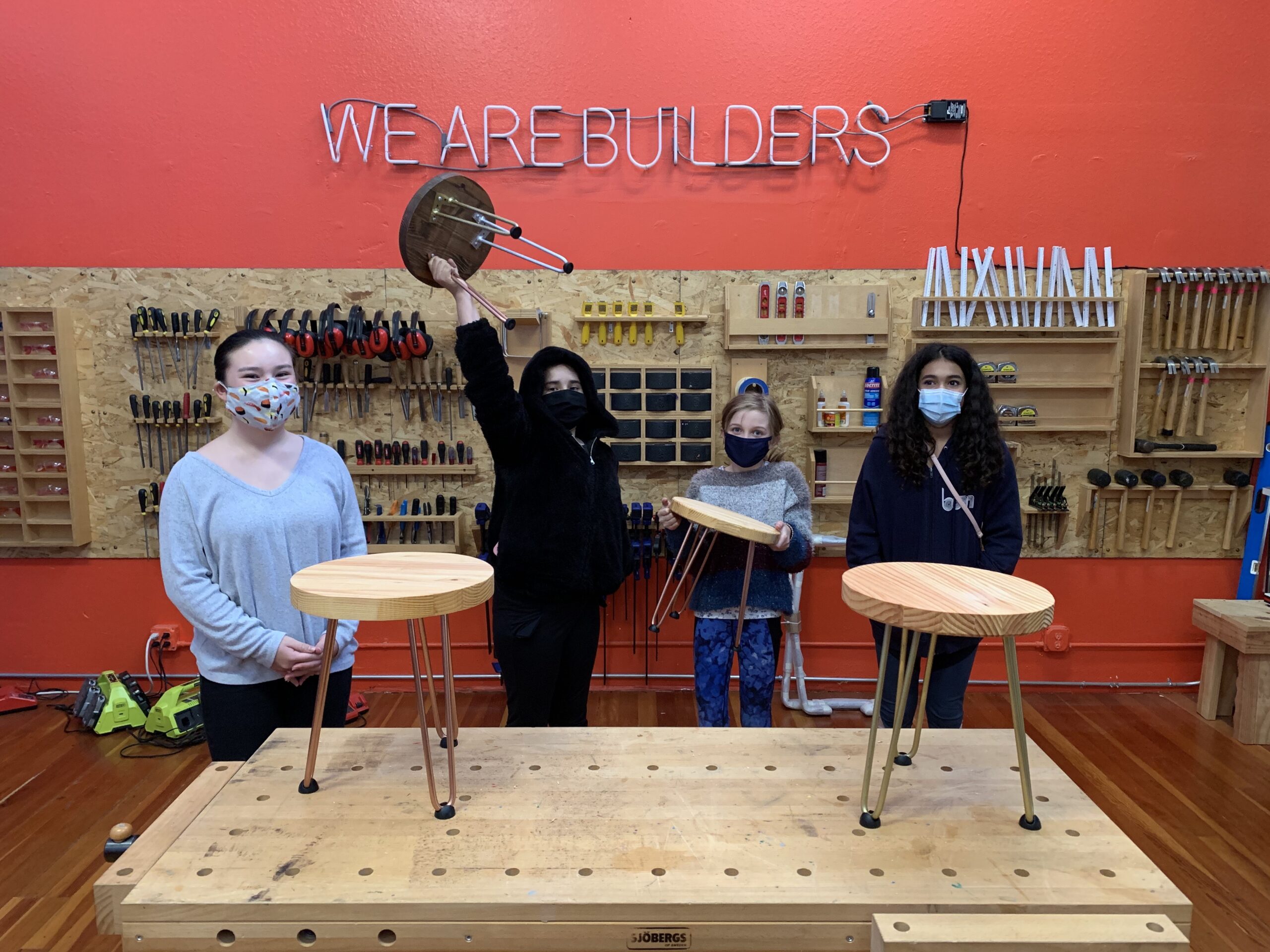 Protest + Print (9th-12th grade girls)
In the winter session of Protest + Print led by instructors Emily Pilloton-Lam and HyeYoon Song, we asked ourselves: What does it mean to fly a flag? Is it an allegiance, a statement, a protest? In response to the hate-filled imagery of the January 6th Capitol Riot, our teen artists wrote, designed, and constructed their own fabric flags.
"Flags as a symbol can feel really intimidating," HyeYoon said. "They're also something that people may have a different interpretation of, especially if you're a person of color or thinking about your citizenship." By designing their own flags, girls reclaimed their agency by deciding which truths to honor and emblazon for the world to see. These flags are girls' statements about their own lives, where we've been, where we are, and where we're going. We're so proud of this project and the bravery, honesty, and determination of our Protest + Print girls! (Shoutout to our beloved board member Veleta Allen who helped sew the final flags—a true Renaissance woman!)
Weekend Extension Workshop (9th-12th grade girls)
In our weekend extension workshop, twelve teen builders arrived at Girls Garage for an all-day desk build (the cohorts were split: six girls worked in the morning, six in the afternoon). The day was filled with table saw-ing, precision assembly, sanding, and lots of good humor. By the end of the afternoon, the girls had built 6 distance learning desks for our community client, BOSS. The ABC7 Bay Area News Crew even created a feature on Girls Garage, featuring footage from this workshop—you can watch it here!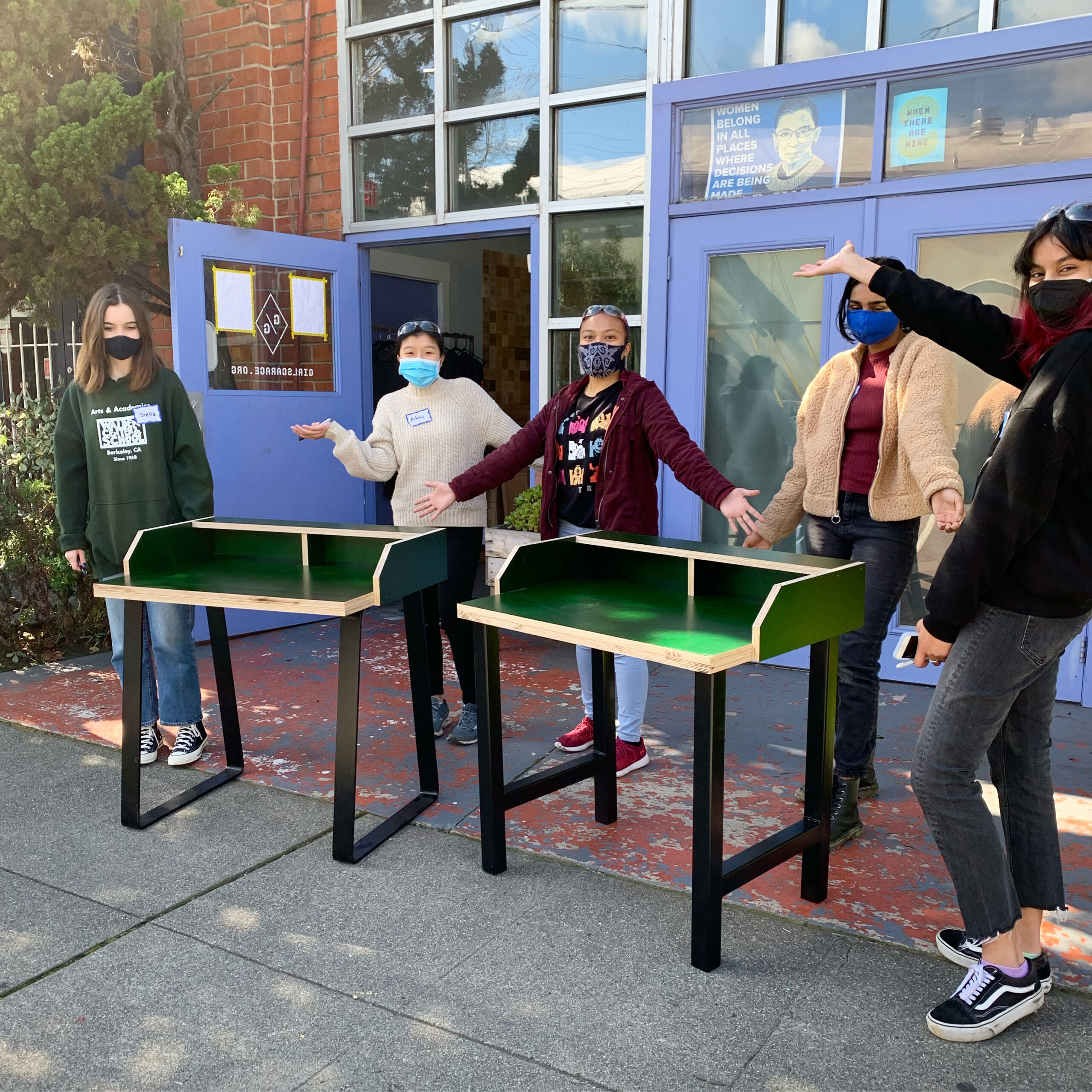 ---
Online Winter Class
RESTORATIVE DRAWING + MAKING (9-16 year-old girls)
Every Wednesday, a group of sixteen students gathered on Zoom to attend Restorative Drawing + Making, taught by our beloved goofball art instructor, Meghann Harris. The students created animal mages, wishing trees, doodle chains, and color auras. In a year where Zoom burnout is exponential, Meghann's creative spirit and enthusiasm continues to delight our students. One parent wrote to us: "My daughter has been hating Zoom, hating Zoom school, and so I worried before the session – but she LOVED it – she immediately felt connected and kept working on her project after the session."
---
TOOLBOXES
We distributed the first batch of Fearless100 toolboxes to our Advanced Design/Build participants! As the girls opened their toolboxes, instructors Emily Pilloton-Lam and Hallie Chen gave a quick rundown of each tool and how to use it (you can find the full tool list here). Giving our girls toolboxes literally equips them with the tools to build a better world, and we can't wait to see their wildest hopes, dreams, and projects unfold.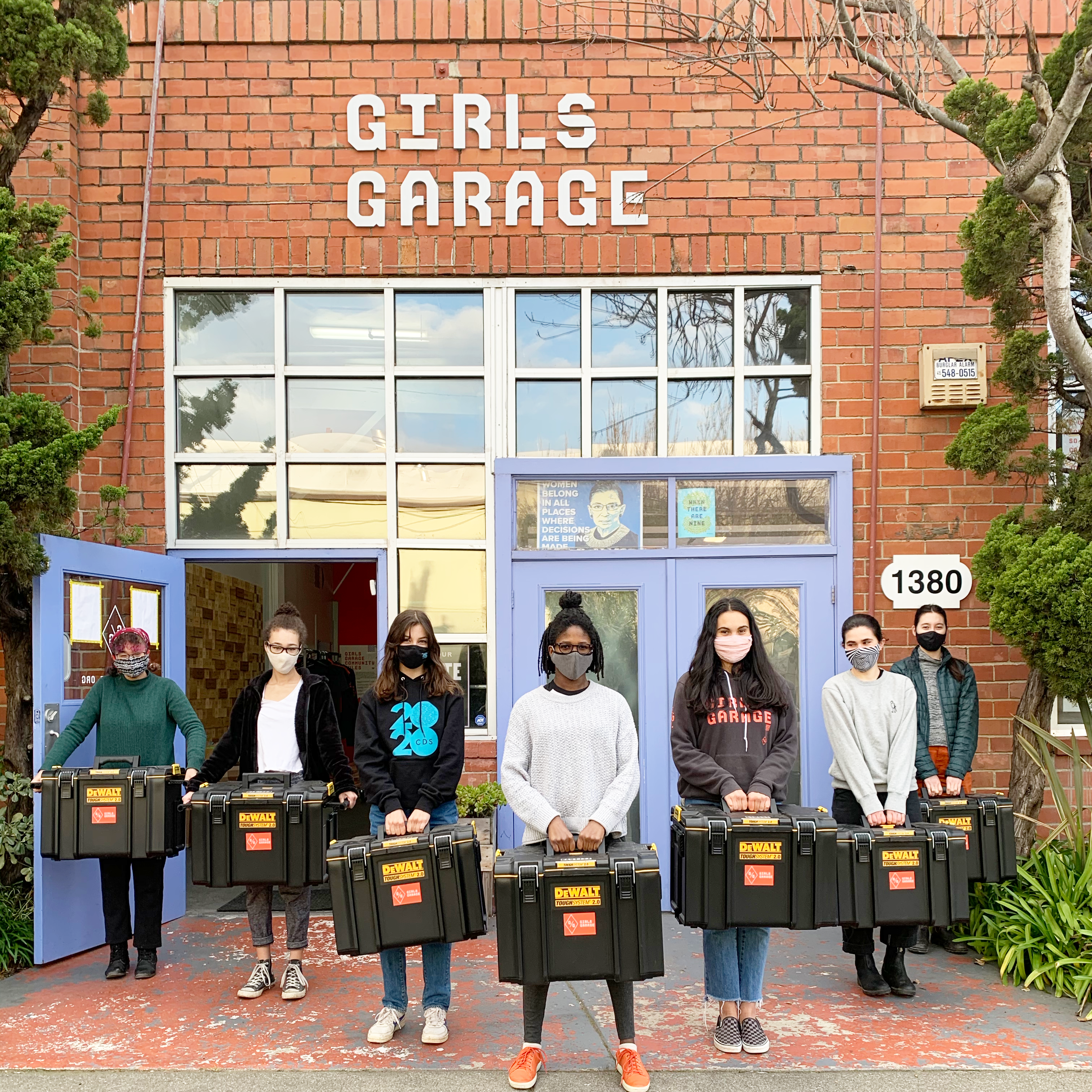 ---
The winter session absolutely flew by. Each week, we watched our fearless girls tackle design, building, and creative challenges (after a full day of Zoom school, no less!). Whether they were cutting fabric letters or MIG-welding hairpin legs, they demonstrated the bravery and gusto that we all could use a little more of right now. We're excited to see so many familiar faces in our upcoming spring session, as well as welcome new ones!
In other news:
All of our staff got vaccinated! We're so grateful to the city of Berkeley and every single volunteer, nurse, and hired worker who made the mass vaccination possible.
To celebrate International Women's Day, we sold replicas of our Fearless100 toolboxes to the general public at Ashby Lumber.
We hosted our first ever virtual "Tool Talk" event with Emily Pilloton-Lam and Allison Oropallo. Check out our visual notes on Instagram!
ABC7 Bay Area News created a feature video on Girls Garage for the program, "Local-ish."