As we wrap up this year (decade!), we're reflecting on our biggest and bravest moments and accomplishments of 2019. Heading into our 8th year, we're so grateful for what our girls have achieved, and even more anxious to kick off 2020 with a full tank of Fear Less Build More spirit. In no particular order, here are our top 10 moments of 2019: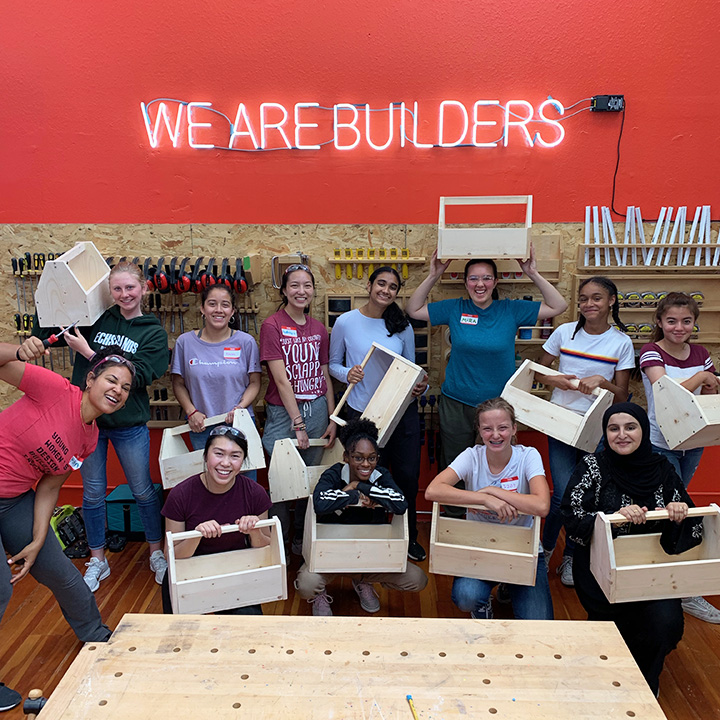 1. 100% Free Teen Programming
In January of this year, we took a leap and made a commitment to providing all of our teen programs at no cost to girls and families. We believe every teen girl deserves spaces like Girls Garage without the concern of financial barriers and that as girls begin to think about college and careers, it's our responsibility to support them in the most inclusive way possible. This year, our free teen programs — including Protest + Print, Advanced Design/Build, and Young Women's Design and Building Institute — served over 100 girls in rigorous and high fidelity programs.
---
2. Appeared on The TODAY Show
In October, Girls Garage hosted Correspondent Meena Duerson in our Mother/Daughter Builder Bootcamp workshops alongside 5 other families; including our founder Emily Pilloton's fearless mother, Anna Pilloton, who learned how to use a chop saw, bandsaw, jigsaw, drill, and driver for the first time! Watch the TODAY Show segment here.
---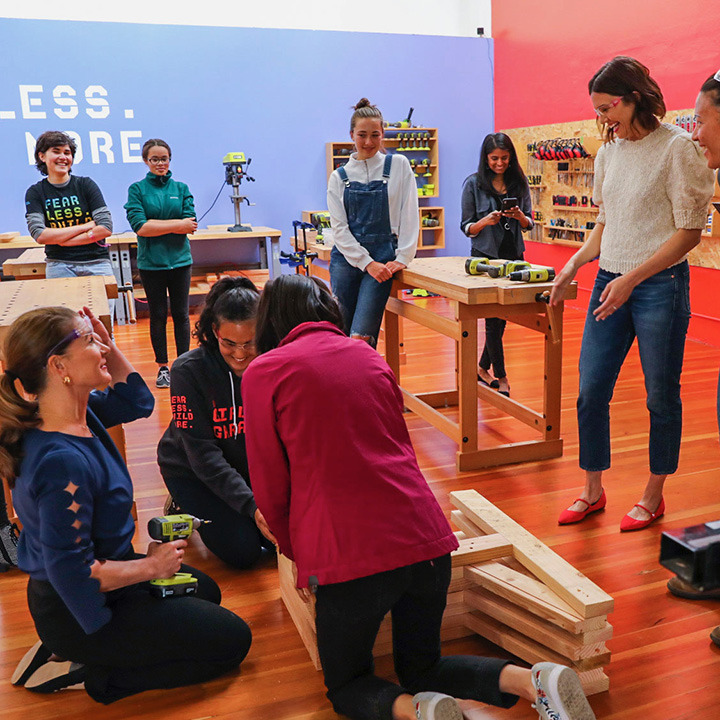 3. Melinda Gates Visited!
Melinda Gates (and her sister-in-building Mandy Moore) came to visit Girls Garage in May as part of Melinda's book tour for The Moment of Lift. Our teen girls taught Melinda and Mandy how to use a chop saw, drill, and driver, and also got to talk to these two sheroes about careers in STEM, vulnerability, bravery, and sisterhood. TIME Magazine covered the visit, and published an article and beautiful short video! Melinda has continued to support Girls Garage's work through Pivotal Ventures, her investment and incubation company.
"The girls were so alive with what they were doing. It wasn't the instructors who were teaching me how to use the tools, but the girls themselves. It's amazing to hear from them how what they're learning is showing up in the rest of their life, in terms of their confidence or the career they might pursue in college and beyond." – Melinda Gates
---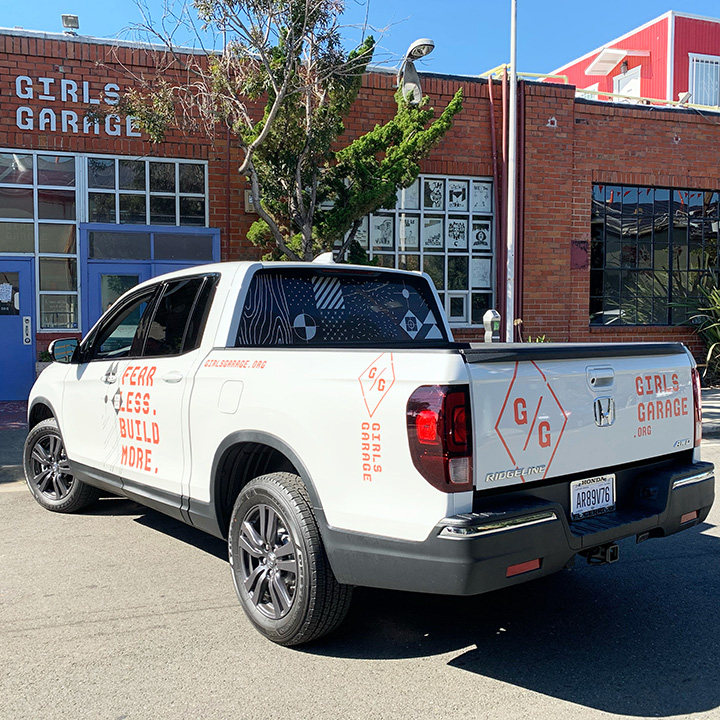 4. Got a Girls Garage Work Truck
After many years of van rentals and cramming lumber into our founder's Honda Fit, we saved up this year and acquired a new Honda Ridgeline work truck. Her name is Natalie, named after the very first girl to ever enroll in a Girls Garage program back in 2013. Our design team from Firebelly created hard-to-miss vinyl graphics, and we're now able to transport loads of lumber and gear from lumberyards and to our jobsites!
---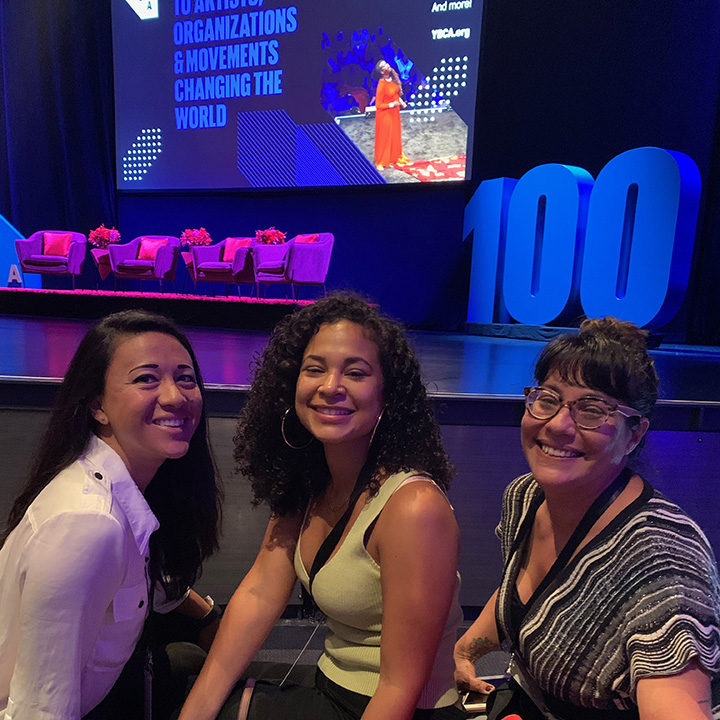 5. Became a YBCA100 Honoree
We were honored to be included in the Yerba Buena Center for the Arts' 2019 #YBCA100 list of 100 people and organizations using their creative and collective power to make change! Girls Garage is proud to be part of an expansive and diverse community of individuals and initiatives in the Bay Area and beyond who are committed to using art and creativity for positive social change.
---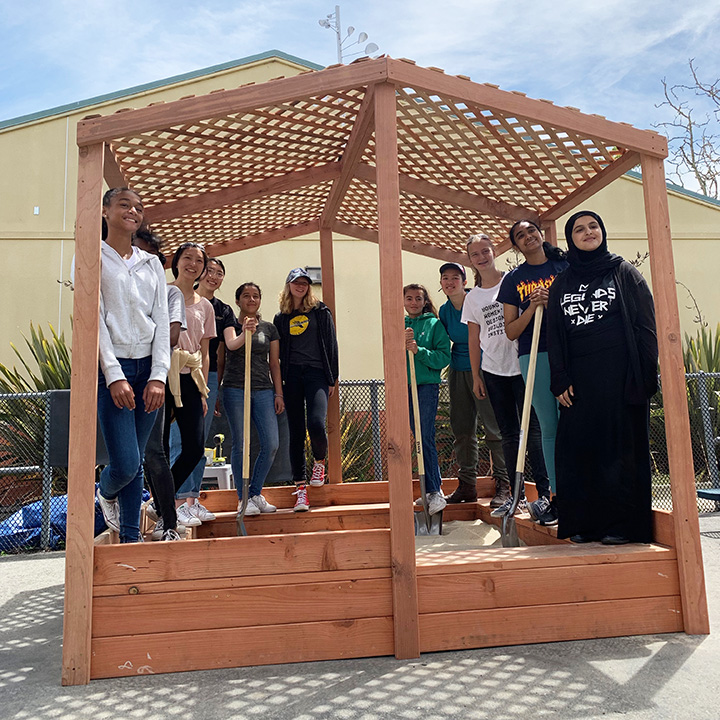 6. Built Preschool Sandboxes
We offered two sessions of our no-cost Young Women's Design and Building Institute in June, and 24 young girls came together to design and build 2 sandboxes and 2 wind sculptures for Hopkins and Franklin Preschools in Berkeley. Girls came from 17 Bay Area cities to learn carpentry, welding, design, and construction as a crew of fearless builder girls. 90% were girls of color, and 100% came at no cost. In our weeklong Institute, girls learned how to use 20 tools and put their skills to work to measure, cut, fabricate, and assemble a hexagonal and rectangular sandbox and two single-helix kinetic wind sculptures.
---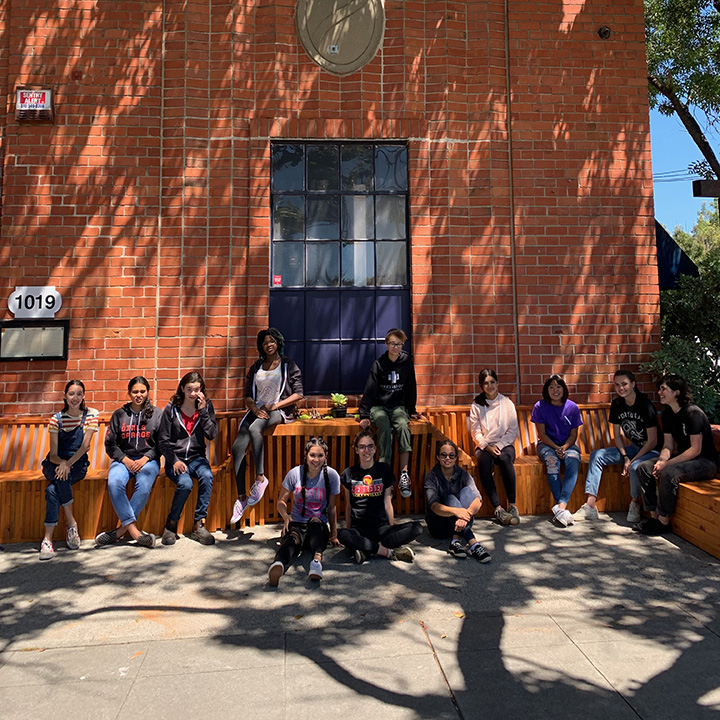 7. Built a Neighborhood Parklet
Our Advanced Design/Build cohort of teen girls worked hard to design, engineer, build, and publicly open our "parklet" project for Sanctuary Bistro (now Nest of Comforts cafe). This project was the culmination of 9 months of work that challenged their applied math and design skills at full scale, culminating in a public project that will live in our neighborhood for years! Our Advanced Design/Build Cohort is a group of our most accomplished and engaged builders, some of whom have been with us since 2013.
---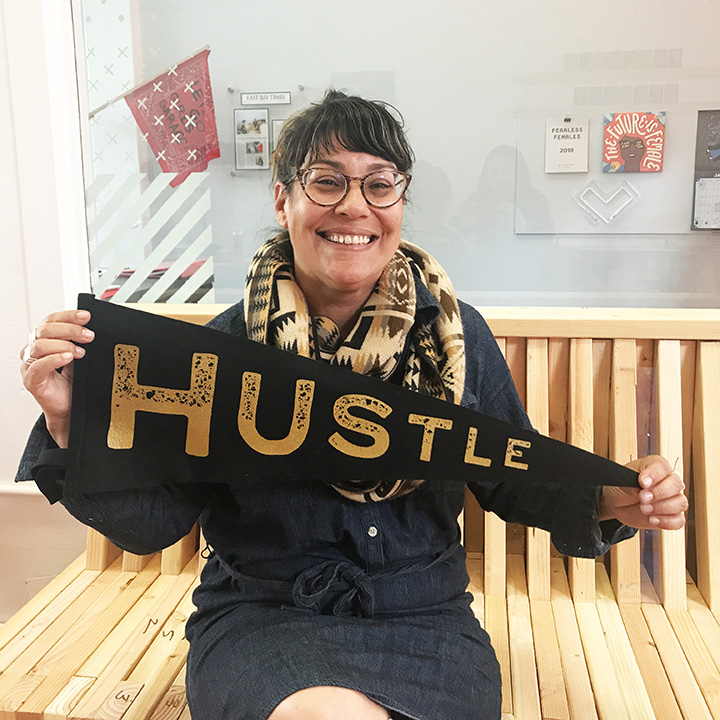 8. Hired a Development Director
In April 2019, Girls Garage hired Kristy Higares to join the team as Director of Development (though we also call her our Director of Hustle). Kristy, who has been described by friends and colleagues as a "magical human," joins us as we embark on a new decade of free programs for teen girls, and comes to us with over 20 years of education, fundraising, and nonprofit leadership experience. She is excited to find new engaging ways to serve more girls in our programs at no cost and to expand the Girls Garage community in 2020.
---

9. Hosted Workshop at TEDWomen
Our founder Emily Pilloton and Lead Instructor Allison Oropallo took the show on the road to TEDWomen, a convening of female leaders in Palm Springs in December. Together, they led a Discovery Session workshop called "Girl Power and Power Tools," in which 20 attendees used 10 tools to build 6 planter boxes (in the pouring rain) for a local school! We are so inspired to work with the TED community to envision a brave, beautiful future for all girls and women.
---

10. Started an Epic Chicken Coop
Starting in Fall 2019, our Advanced Design/Build Girls began our most ambitious project to date: a 500-square foot chicken coop and run for our community partner, Urban Tilth. From design, prototyping, framing, custom-welding brackets, mixing and pouring a TON of concrete by hand, to moving 3 cubic yards of gravel, our Advanced Design/Build girls get it done and "under budget and ahead of schedule." Our most recent build day in December was an 11-hour shift to complete the vertical posts and deck on which the coop will sit. The coop will be done by Spring/Summer 2020, and we can't wait for you to see the finished project!
---
Thank you for being our #1 supporters this past year and for so many years! We couldn't do this work without YOU. Our greatest joy is seeing girls use a chop saw for the first time, or raising the roof on a structure together, or helping girls navigate their lives bravely, and we've got a fire in our bellies to continue to raise the bar in 2020. Thanks for being on the Girls Garage team!