Summertime at Girls Garage is a construction whirlwind. From hauling lumber and framing walls to building furniture and painting murals, each program—Young Women's Design + Building Institute, Advanced Design/Build, Builder Bootcamp—provides unique design and building challenges for our girls and gender-expansive youth to tackle.
This summer, we were thrilled to hold our weeklong summer intensives in-person at the Girls Garage workspace. Although every instructor (and many teens) were fully vaccinated, we required every participant and staff member to be masked indoors at all times. After a year and a half of pandemic-induced isolation and Zoom meetings, we cherished the opportunity to connect with our students in-person and build for our community clients together!
Summer 2021 By the Numbers:
80 students, ages 9-18
200 square feet of greenhouse built
7 murals completed
26 pieces of furniture built for BOSS and Growing Leaders
$104,000 in free programming provided to students
2004 linear feet of lumber
1900 star-bit screws used
---
Young Women's Design + Building Institute
Young Women's Design + Building Institute is an intensive weeklong program at Girls Garage where teens learn carpentry, welding, architecture, engineering, and design as they build a project for a community client. Over two weeks, 29 teens gathered at Girls Garage to build library furniture and design garden murals for the Ursula Sherman Village, a transitional housing shelter a few blocks away (run by our community client, BOSS). Thanks to the success of our Fearless100 Toolbox fundraiser, each YWDBI participant received their very own fully-stocked toolbox and used these new tools to build throughout the week.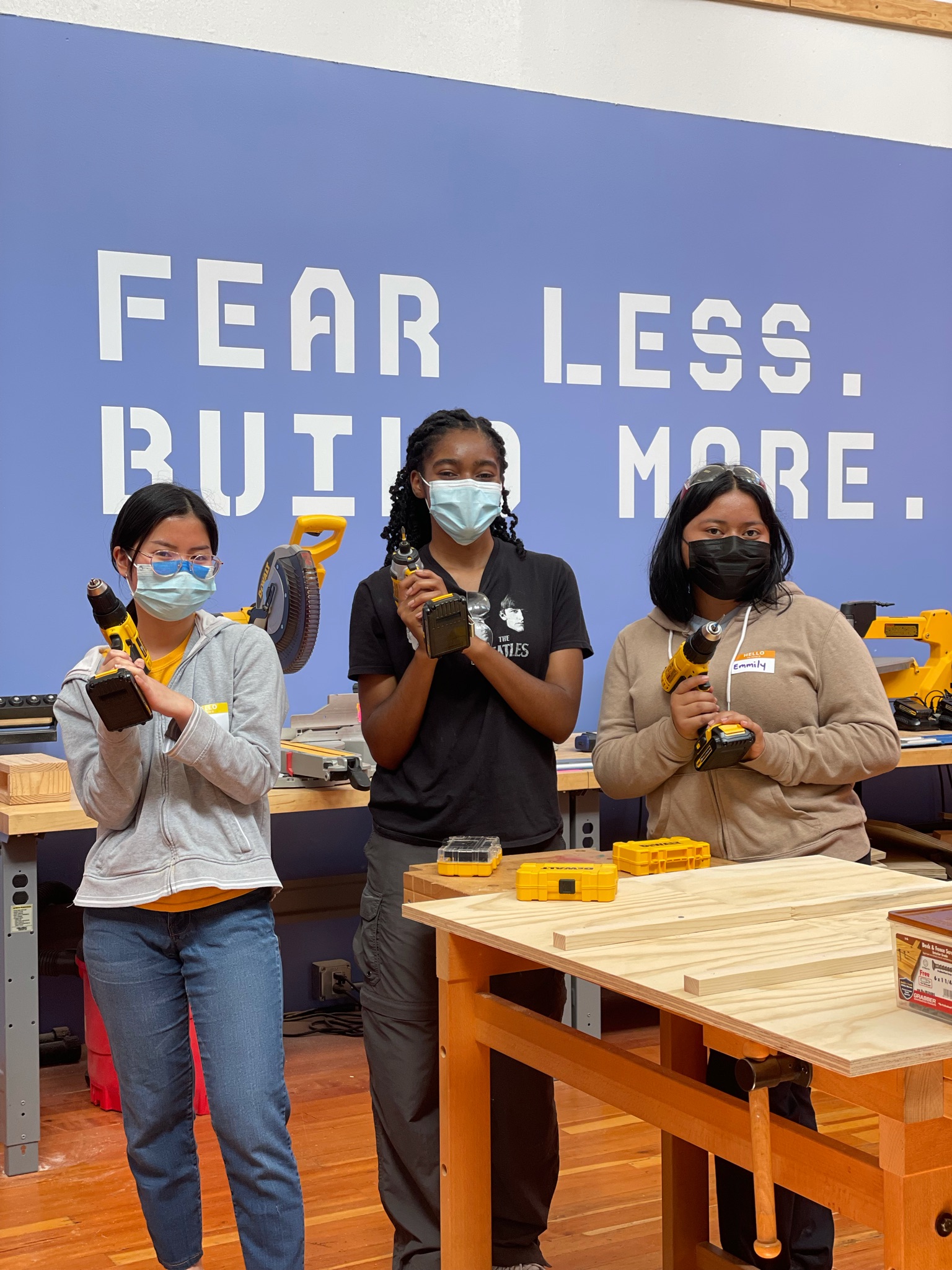 Instructors Emily Pilloton-Lam, Allison Oropallo, and Augusta Sitney taught our teens how to safely wield power tools, such as the miter saw, drill and impact driver, and circular saw. On the first day, each student built their own wooden box as a "warm up" exercise for the project to come. In the following days, our teens paired up to build and paint mobile library shelves and book benches for BOSS. On the final day of the program, our teens walked over to BOSS to install the library furniture in the Children's Learning Center. In the afternoon, they proudly presented to the BOSS community, including employees, residents, and young children.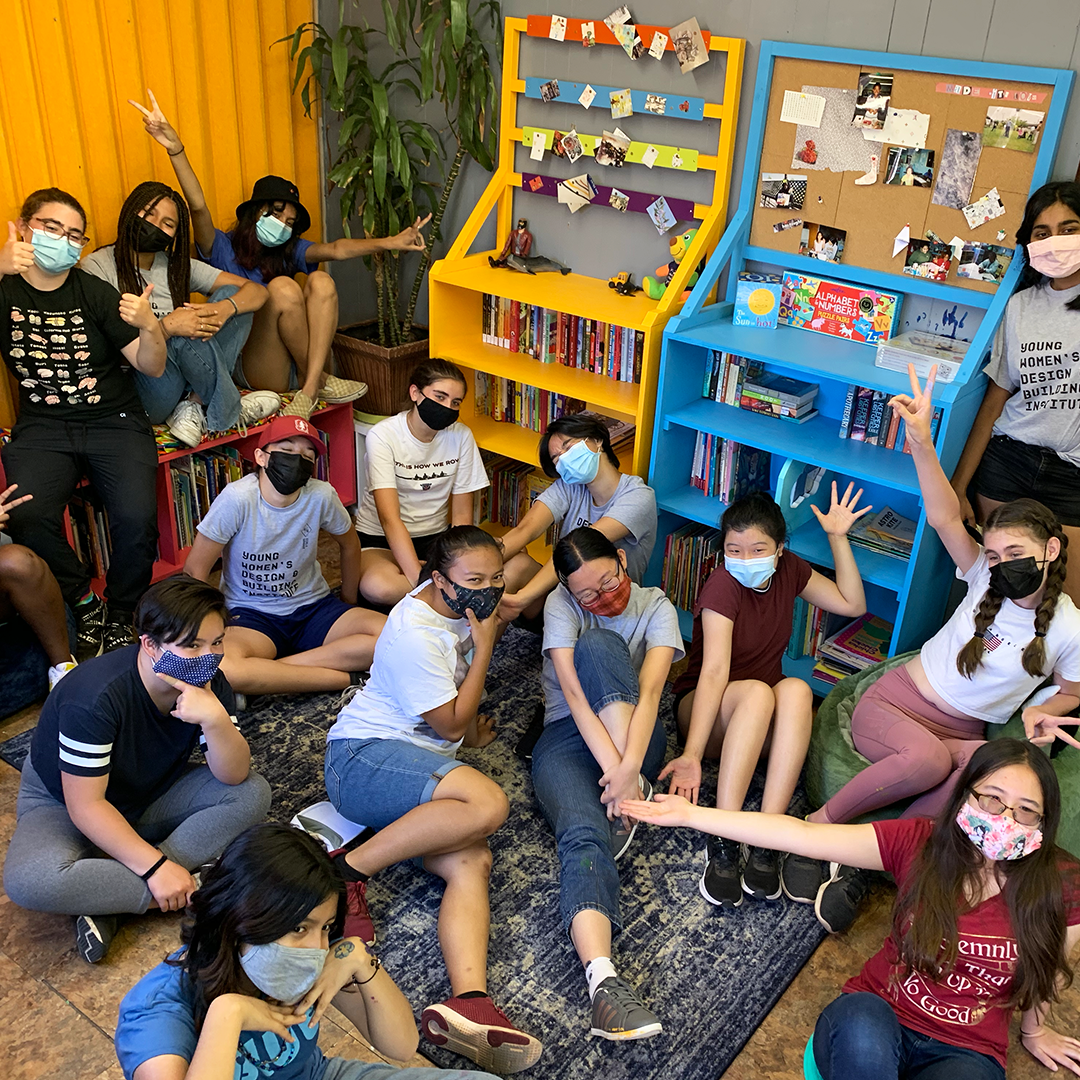 In addition to building the library furniture, our students also painted 6 graphic murals on garden boxes at Ursula Sherman Village throughout the week. Designed by arts instructor HyeYoon Song, the bright graphics are based on the elements that plants (and humans) need to thrive: soil, sun, air, water, nutrition, and love. Each day, our instructors HyeYoon and Maya Vilaplana (who flew in from New York just to teach YWDBI!) led our girls in taping, prepping, and painting the murals with precision and patience. The end result was a bright, beautiful outdoor space for the residents of the transitional housing shelter.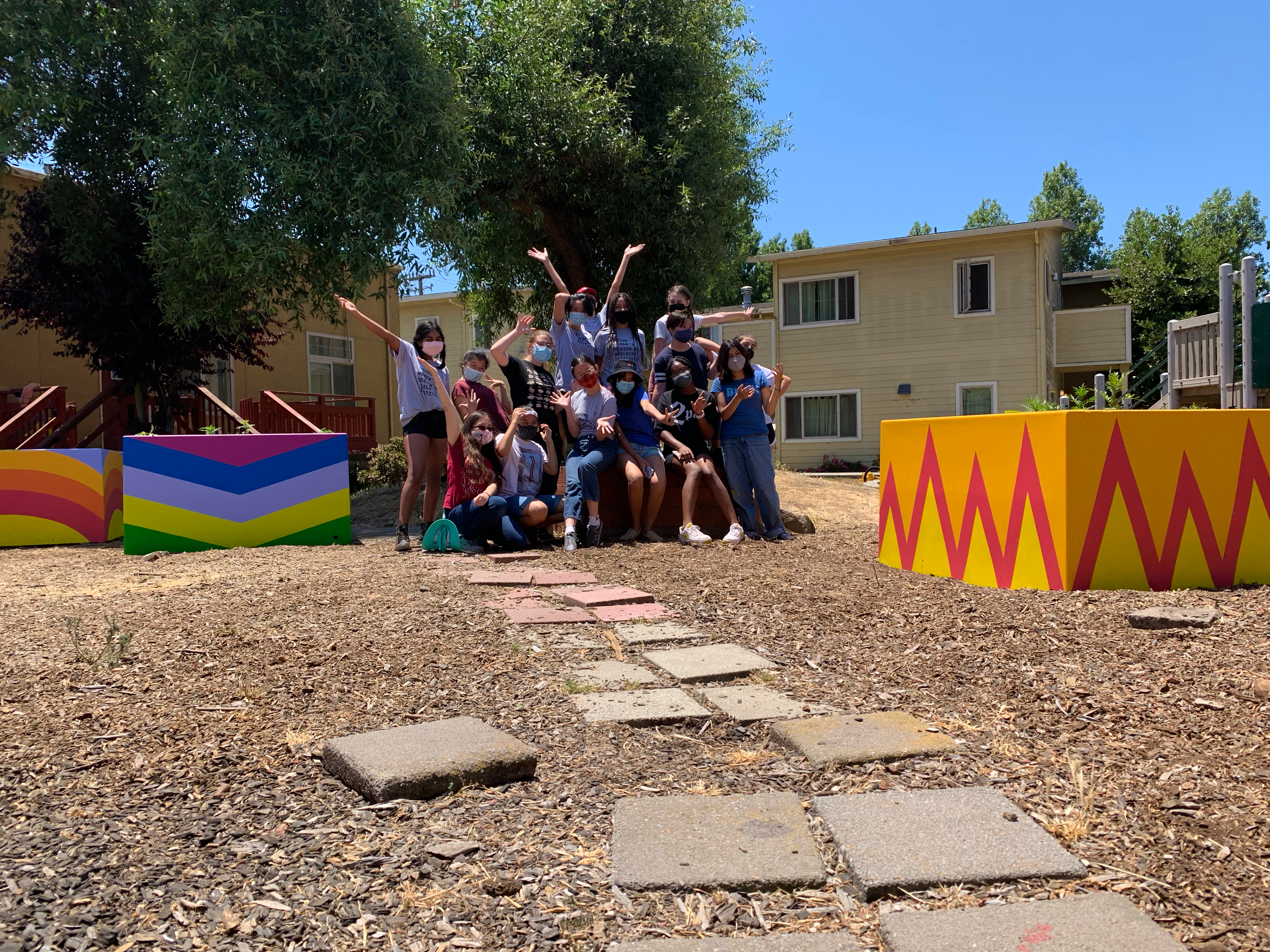 Advanced Design/Build
Our Advanced Design/Build program is a year-round cohort of our most committed builder girls. This cohort brings together 9th-12th grade girls and gender-expansive youth from diverse backgrounds to tackle complex, community-based projects designed and built by the teens themselves. In our weeklong summer projects, our teens get the opportunity to tackle a larger construction project, like the parklet or the chicken pavilion. The long days—filled with sweat, sawdust, lumber, and elbow grease—give our students the experience of what a professional construction site feels like.
This summer, our intrepid crew built a 200-sq-ft greenhouse for Growing Leaders, a youth gardening and entrepreneurship program in Berkeley. On the first day, our teens wasted no time in getting to work; with the help of instructors Emily Pilloton-Lam, Augusta Sitney, Allison Oropallo, and Hallie Chen, the group framed and raised six 8-foot wall panels using pressure treated lumber…all before lunch! In the hours and days following, they squared the structure, attached corrugated plastic panels and siding, installed roof rafters and a solar thermostat fan. They also painted and attached a 42-ft-long graphic mural, designed by arts instructor Yetunde Olagbaju and Emily Pilloton-Lam. On the final day, the teens presented the greenhouse and their building process to friends, families, and the Growing Leaders staff.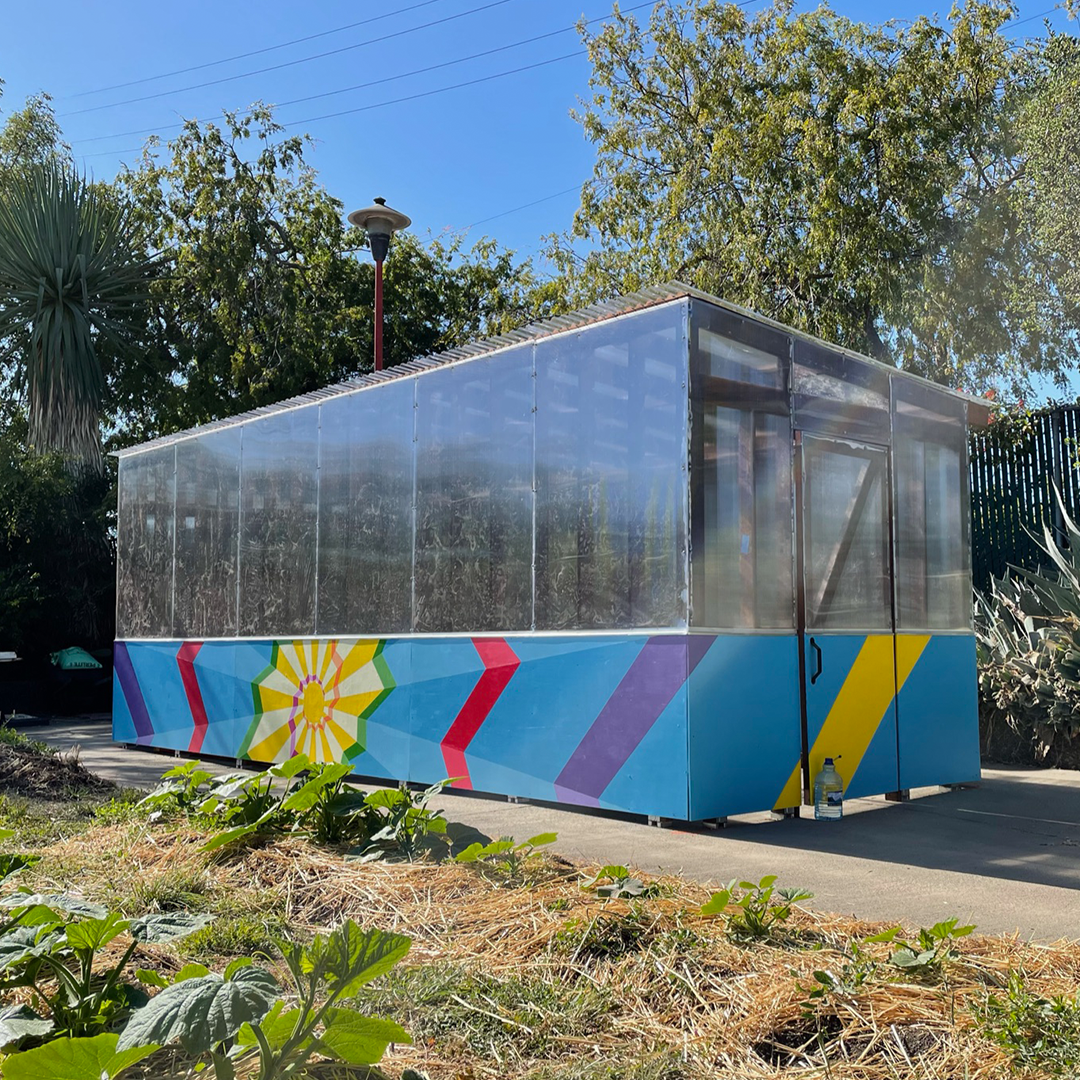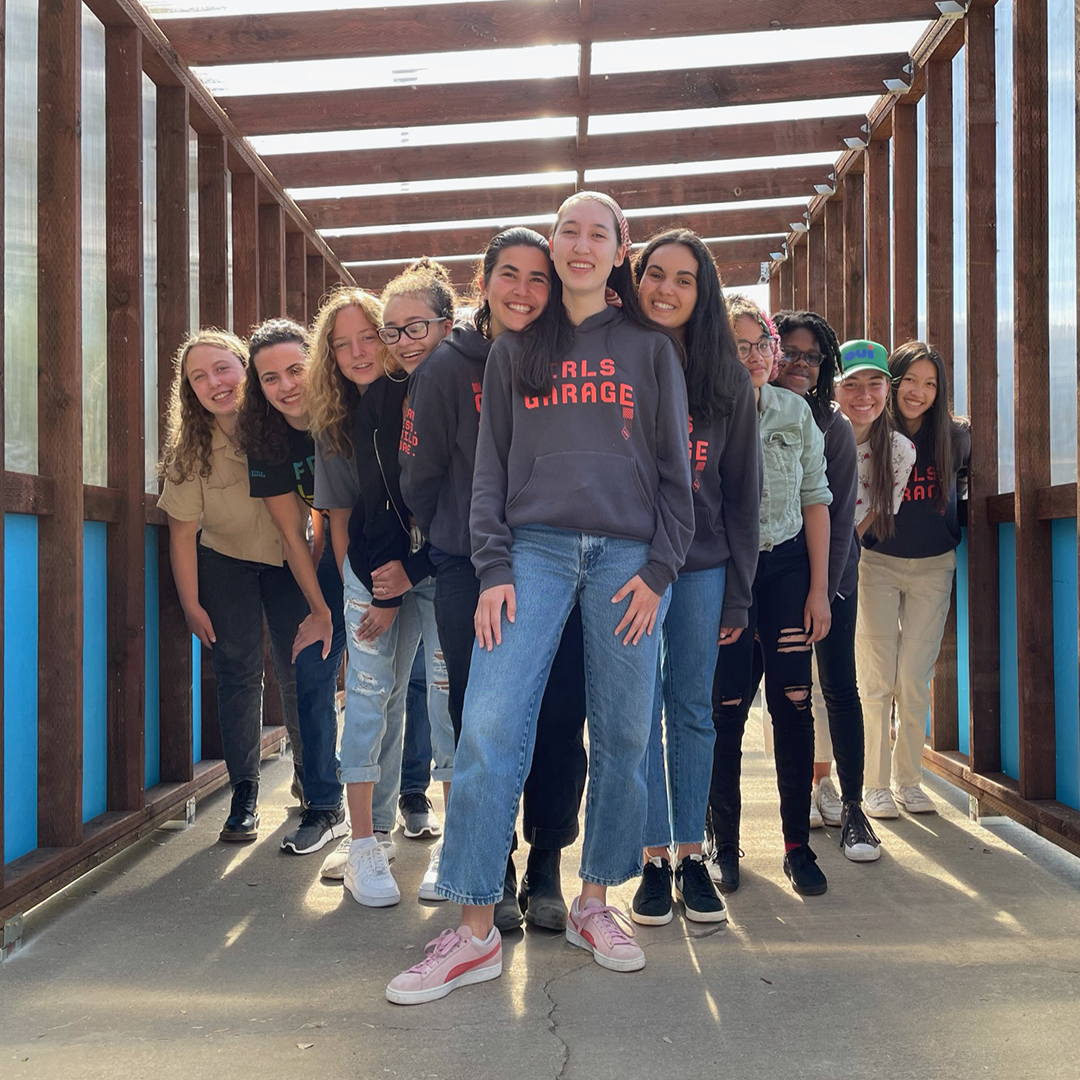 Builder Bootcamp
Builder Bootcamp is a weeklong summer program for 9-13 year old girls and gender-expansive youth. Over 35 instructional hours, students learn and apply skills in carpentry, graphic design, metalwork, and teamwork to build a community project.
During this summer's session, the Builder Bootcamp projects included constructing tables for the Growing Leaders greenhouse and illustrating family recipes for a cookbook zine. Instructors Emily Pilloton-Lam, Allison Oropallo, and Augusta Sitney led the building process, and Meghann Harris, Hannah Geitner, and Bethany Kaylor led the cookbook design process. Girls Garage alumnae Charlene Tonai Din, Aiko Doughtery, and Eliana Ives provided additional support, jumping in wherever necessary.
As a carpentry warm-up exercise on the first day, our builders constructed a simple shelf for their bedrooms. In the days that followed, they split into small groups to construct the tables, using the miter saw to cut dimensional lumber and drills and drivers to assemble the pieces. After assembly, our builders painted the tables in bright exterior paint. The final step was attaching casters to the tables so the Growing Leaders staff could easily move them in and out of the greenhouse.
On the arts side of Builder Bootcamp, our students kicked off the week by learning how to screenprint a Girls Garage T-shirt. Switching gears, instructors Meghann and Hannah then facilitated a discussion about food, family history, and mutual aid in the Bay Area. Inspired by edible gardening and the connective power of food, each student selected a recipe from their family to design for the Girls Garage cookbook zine. Our students used a variety of mediums to design their page: pens, pencils, markers, stickers, beads, and even 3D objects like clay sculptures. The pages were then copied and printed on the risograph machine and assembled into a zine. The final result was a colorful cookbook, filled with recipes that celebrated the cultures and histories of our students and staff members.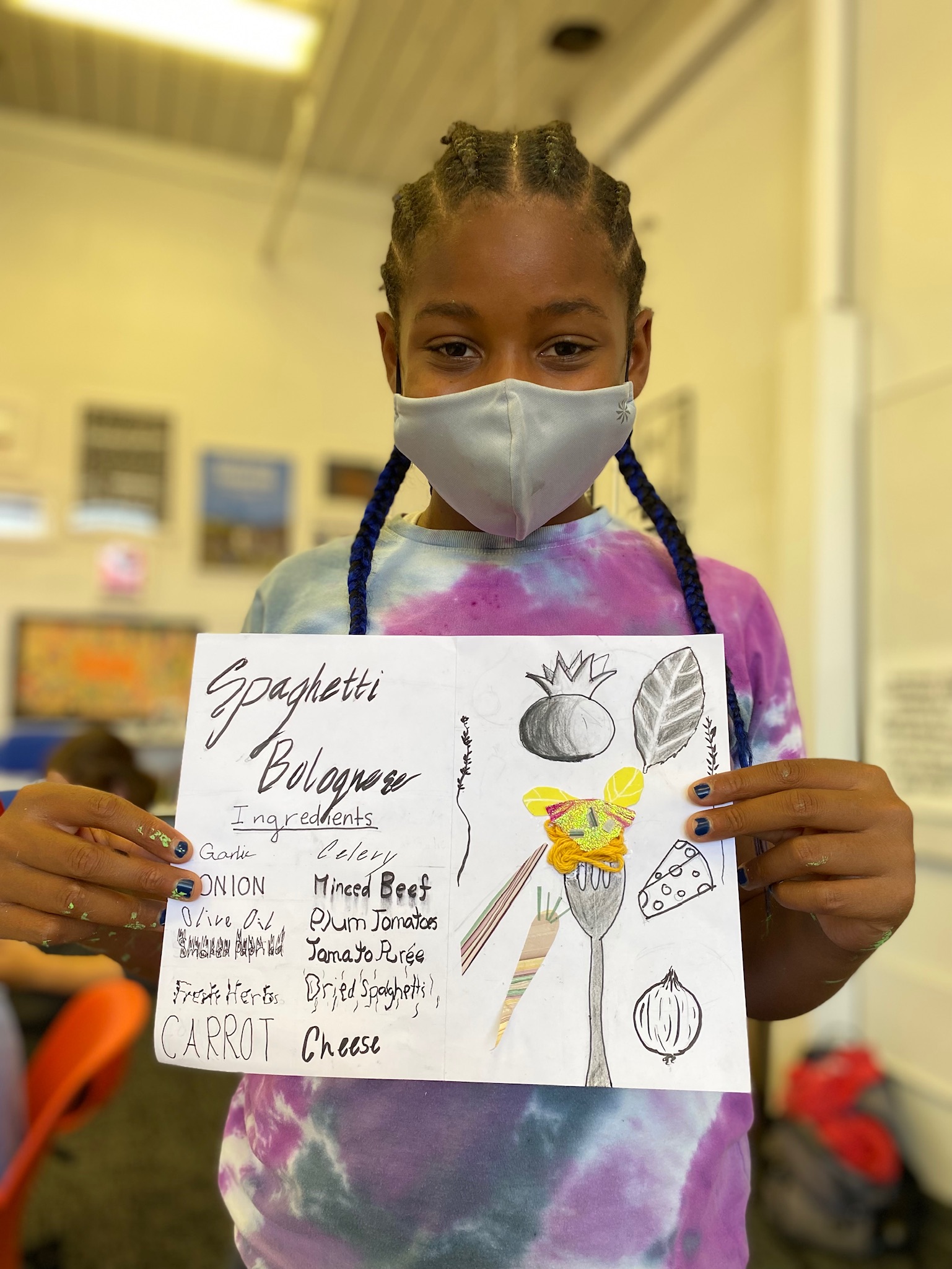 At the end of the week, our young builders presented each project—the screen printed t-shirt, the shelf, the greenhouse tables, the cookbook zine—to an audience of family and friends.
---
While every summer is special at Girls Garage, 2021 was a particularly memorable one. Nothing beats working side-by-side with our girls and gender-expansive youth in service of our community. We're so grateful for the opportunity to build deeper relationships with our community clients, BOSS and Growing Leaders. We're also grateful for the grants and funders who made it possible for us to provide programs this summer to our fearless students. Thank you all so much for your support!