Allison Oropallo is an expert educator with over 15 years of teaching experience and decades of construction experience under her (tool)belt. She currently teaches at Girls Garage and the Marin School of Environmental Leadership. Over the years, she has built innumerable projects with youth and loves to teach through hands-on design and engineering challenges.
For Allison, building, repairing, and creating is who she is, and has been part of her identity as early as she can remember. She credits that to two influential people: her father and a shop teacher from middle and high school. She fondly recalls working with her dad on many renovations—even LOVING napping on a blow-up pool raft and showering off with a hose, since it was all part of getting that immensely satisfying feeling that comes at the end of a job well done. Her woodshop teacher also recognized and encouraged her builder spirit, complementing her construction experience with an introduction to woodworking and tools like saws and planers. Allison says that her dad made her confident and capable and her teacher made her a pro.
Now, Allison has put her talents to work on her own home, completely renovating her house over the course of the last six years. Her list of remodeling accomplishments is long, and apparently unending. For example, she shared that when she started teaching Girls Garage's Advanced Design/Build online this spring, there was no power on the kitchen island where she was using her laptop. So she simply crawled under her house, drilled through the floor, ran the wiring, and installed an outlet. And boom, electricity for teaching via Zoom.
We recently put Allison on the spot and challenged her to name her top five power tools. We also asked her to describe a few scenarios where those tools really shine and projects she has completed with them. Read on to see which tools made the cut!
#1 – Impact Driver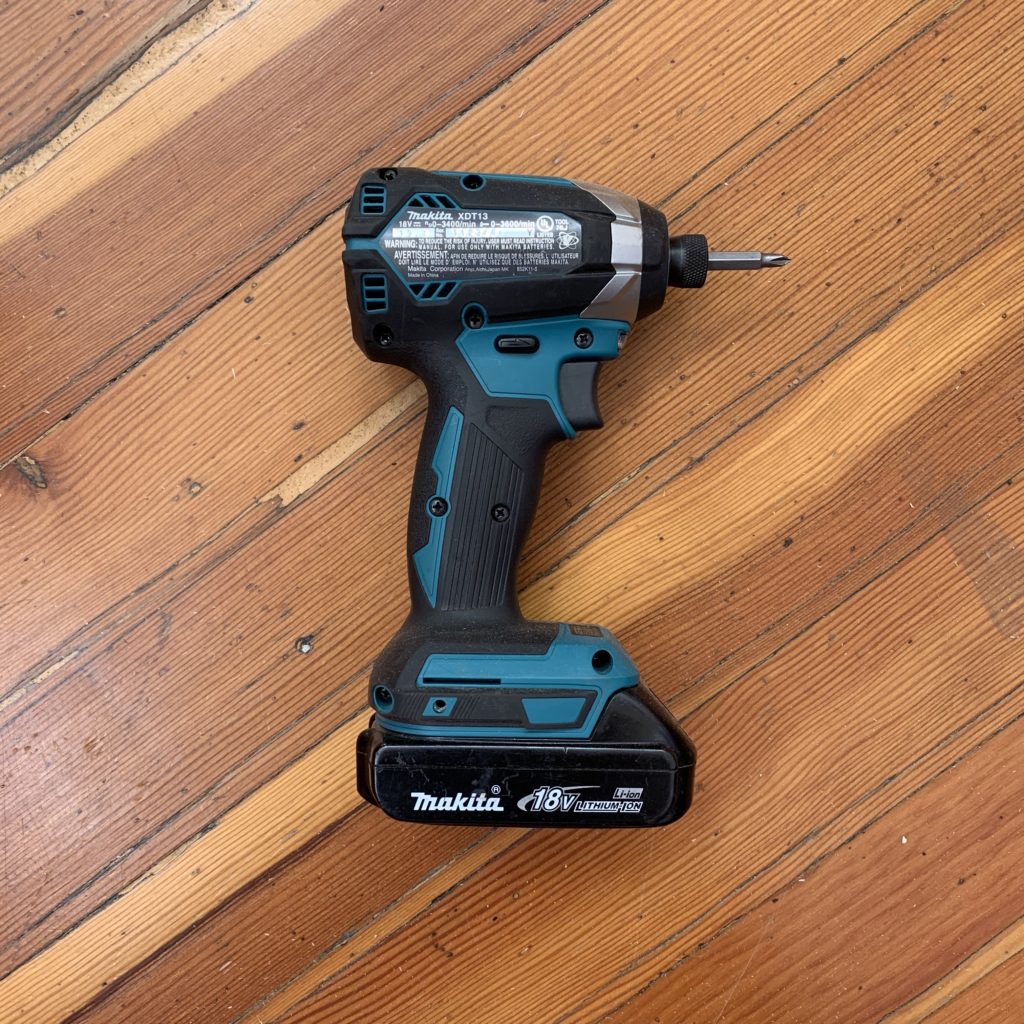 The impact driver is Allison's most-used tool, hands down. Unlike a drill, it has a built-in mechanism to make installing screws extra efficient and safe (and you won't strip your screw heads). When shopping for an impact driver, she suggests looking for a reliable brand; Makita is her top choice here. Look for a driver that is not too heavy, but still powerful, as the weight can become tiresome when you hold it up for long periods of time. Definitely opt for a cordless version with the standard 18-volt battery and a brushless motor.
Keep a full set of driver bits organized in a case and stored with your driver so you are ready for whatever fastener you come across. Always have an extra battery charged up, so that when you run out of juice you can easily snap in the spare and keep working.
#2 – Chop Saw (and Shout-Out to the Circular Saw)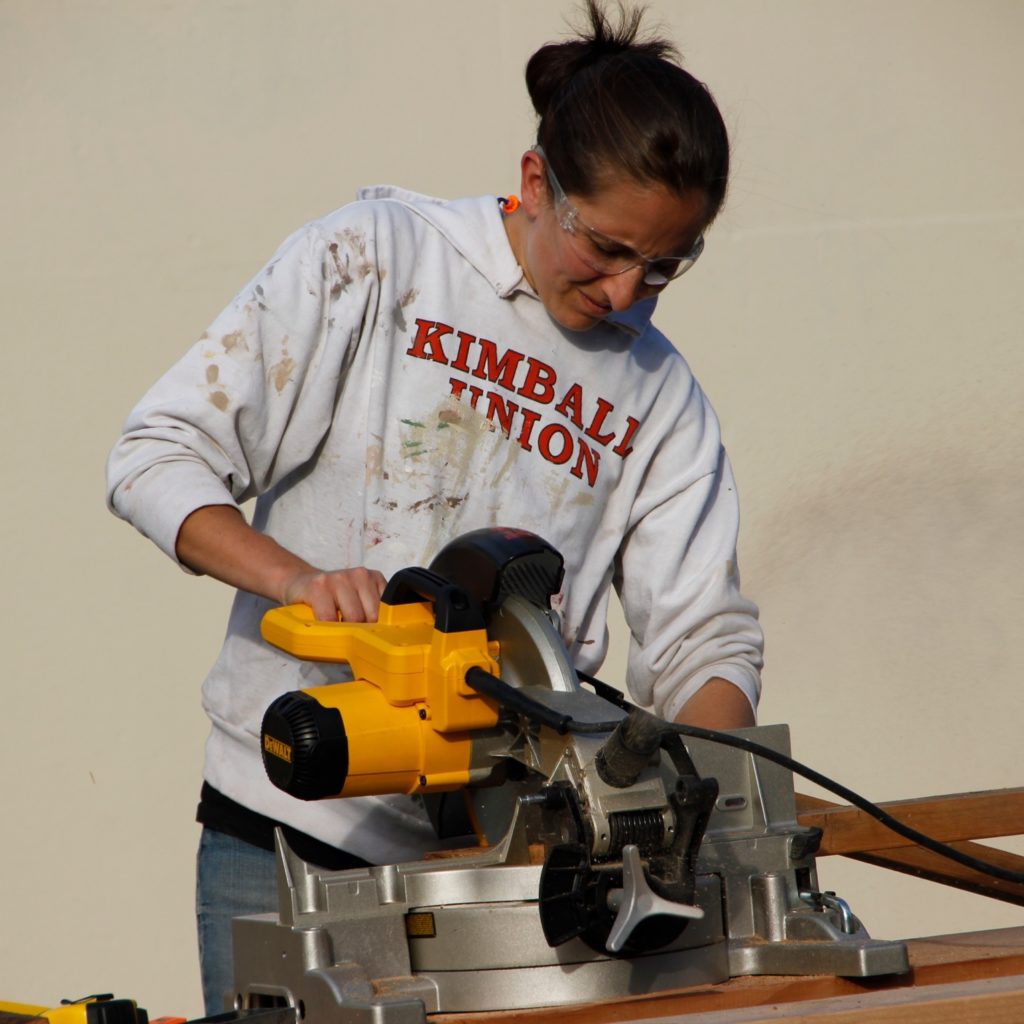 Also called a miter saw or crosscut saw, the chop saw is the go-to power tool for making precise cuts through lumber, including straight, miter, bevel, and compound miter (both mitered and beveled) cuts. A tabletop chop saw is an absolute must-have, used for cutting all the dimensional lumber for framing, like 2x4s and 2x6s.
In the workshop, the large, tabletop chop saw makes quick work of all the lumber that needs to be cut, but if you don't have access to a power source, there are cordless options too. Chop saws require a stationary table-top surface, which can also be limiting, so Allison also has a cordless circular saw on hand, too, for maneuvering into tighter places or cutting overhead. She once built a treehouse (on a hill, 30 feet up) using a handheld circular saw to make all her cuts.
#3 – Sawzall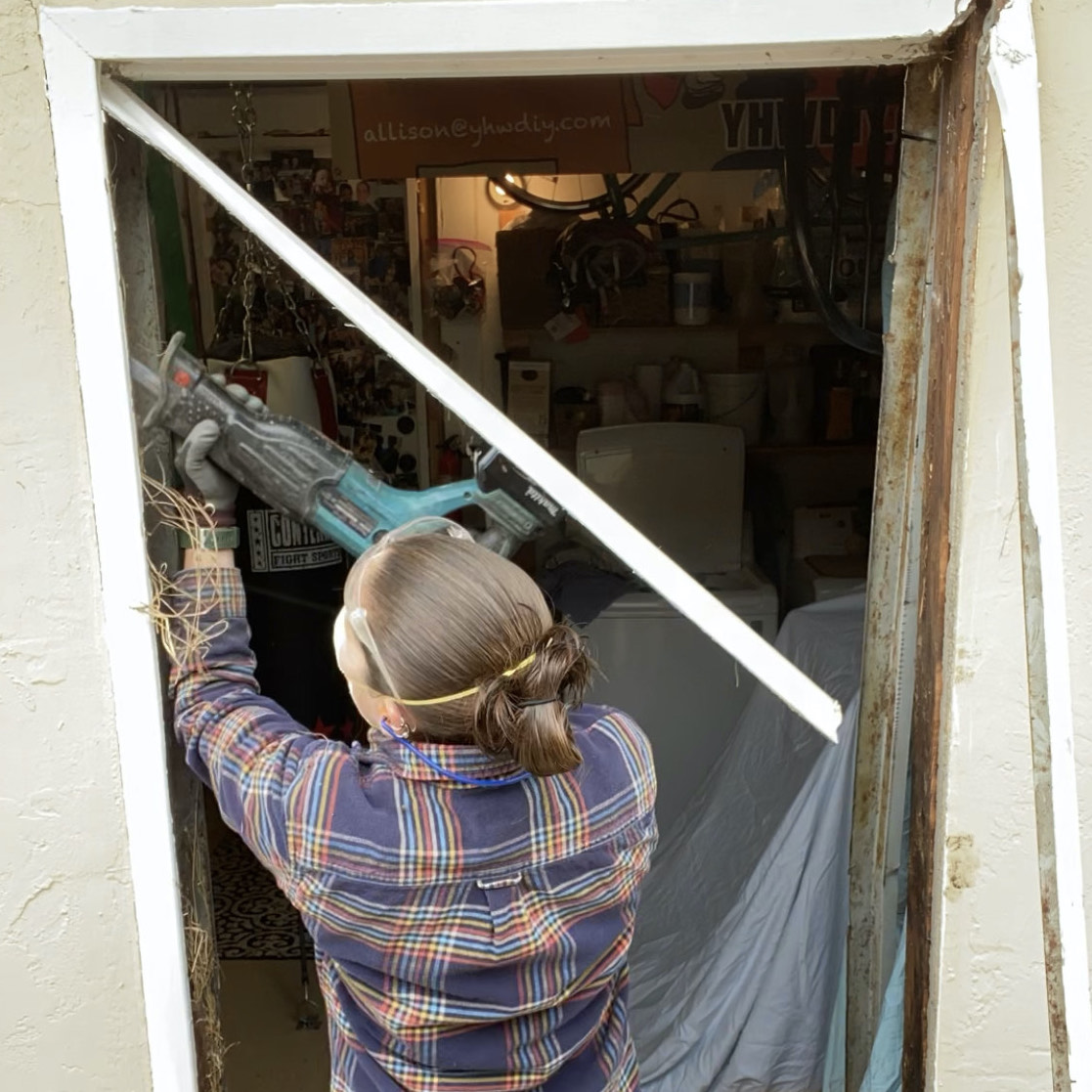 Sawzall is the brand name for a reciprocating saw, a type of electric hacksaw with a "reciprocating" blade that moves in a back-and-forth motion. It is an excellent tool for demolition work and making cuts through multiple materials that might be tricky with other saws. A Sawzall's chief strength over other saws is its versatility: you can flip the blade, use a very wide variety of blade lengths, and make curved or straight cuts.
Allison brought her Sawzall to Urban Tilth where the Advanced Design/Build team used it for the chicken coop. She also loaded a long, 9-inch blade to cut through the 6-inch thick wood on her deck. And Allison selected the reciprocating saw to cut the entire frame for her new garage door.
If you need a less aggressive, more controlled saw, you'll want to opt for a jigsaw instead. A jigsaw is more appropriate for woodworking or carpentry work, where precision is important.
#4 – Oscillating Multi-Tool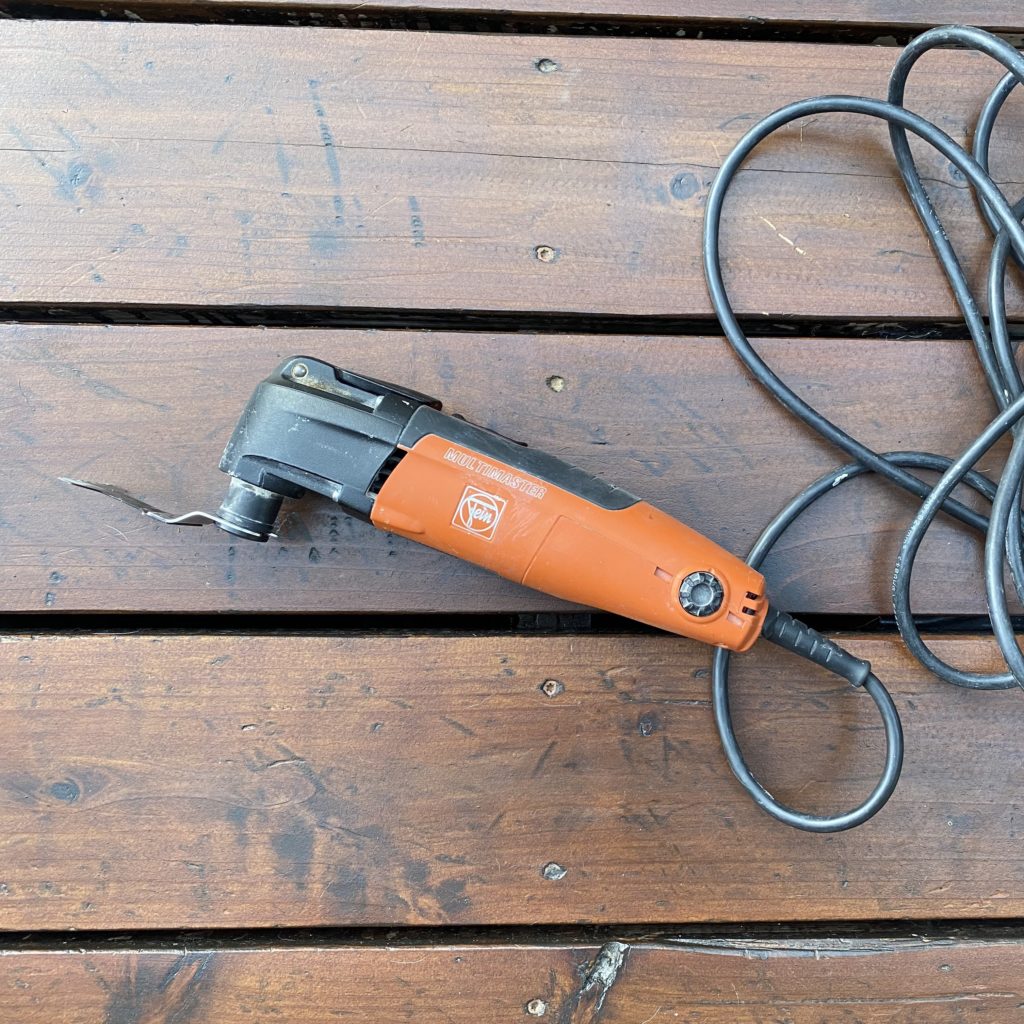 Allison claims that an electric multi-tool changed her life. You can use it as a cutting blade, or planer to smooth a horizontal surface, or many other handy ways at home or on a jobsite. The blades can be turned in any direction, which makes it ideal for flush cuts and for making cuts that require less repair or clean-up later. Her recommended brand is Fein's cordless option.
Allison uses the multi-tool to cut perfect shapes, such as a rectangle for an electric outlet. Because it can make a cut exactly where you need it, there is no damage to the surrounding wood that needs to be covered or patched. She ran the multi-tool along the floor when she was taking out a door frame and was pleased to see that those clean, flush cuts needed no extra repair work afterward.
#5 – Blower
Everyone, according to Allison, should have a blower. This may seem like a surprising tool to make it to the top of the list, but Allison swears by this tool not only because of all of the time it saves during clean-up but also its ability to blow dust out of the other tools and add to their longevity. And according to others around the workshop, Allison has a patented technique for using the blower to corral all the sawdust into a perfect pile. Use a blower to clear sawdust out of all the nooks and crannies, and then vacuum or sweep it all up.
#6 – Angle Grinder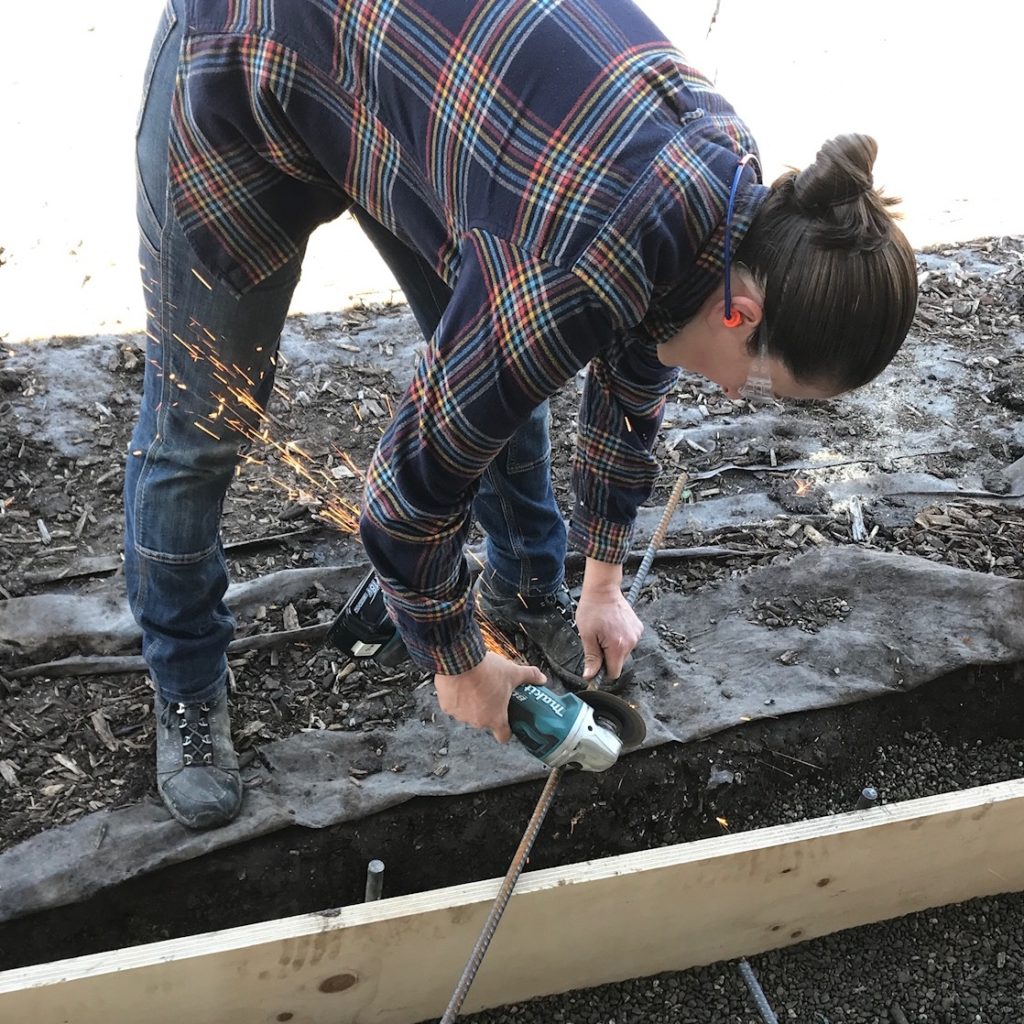 We gave Allison a bonus spot on her top five list, so that she could share a useful power tool for cutting through metal: an angle grinder. Though it's not as critical for her as the tools above, she finds it a valuable addition to her arsenal. A grinder holds a spinning disc—either a cutting or a grinding disc—that cuts through or grinds down metal. For example, cutting through chicken wire with a grinder is much faster and easier than using tin snips. Like the other power tools, she endorses looking for a handheld battery-operated version.
We also asked Allison if she had any dream tools or power tools that she has always wanted the opportunity to work with. But it probably comes as no surprise that with a well-stocked workshop and a long history of building, she's tried them all. Though she did admit that with a little more space, she would love to have a tractor to move earth and do larger yard projects. Using that scale of machinery is ridiculously fun and gets your adrenaline pumping. Since those are less frequent ventures, she's thankful to be able to easily rent a backhoe or Bobcat short-term.
The staff, faculty, and girls here are so lucky to have a chance to work with Allison as she generously shares her knowledge with patience and enthusiasm. She makes building approachable and fun, and her love for her work is as clear as her dedication to our girls. You can learn all about power tools and read more about Allison in her spotlight in our book Girls Garage: How to Use Any Tool, Tackle Any Project, and Build the World You Want to See.