The publication date for the Girls Garage book is less than two months away! Last week, we received an advanced copy from our publisher and printer with every word, illustration, and page in final form. We nearly burst into tears of excitement, and we cannot wait for your copy to land on your workbench. The Girls Garage book is the product of over three years of work by our Founder and Executive Director, Emily Pilloton, who compiled tool knowledge, skills, project guides, and profiles of inspiring girls and women into a formidable tome. We think about this book as seven years of Girls Garage in the palm of your hand. We're thrilled to share this sneak peek into the different types of content featured inside!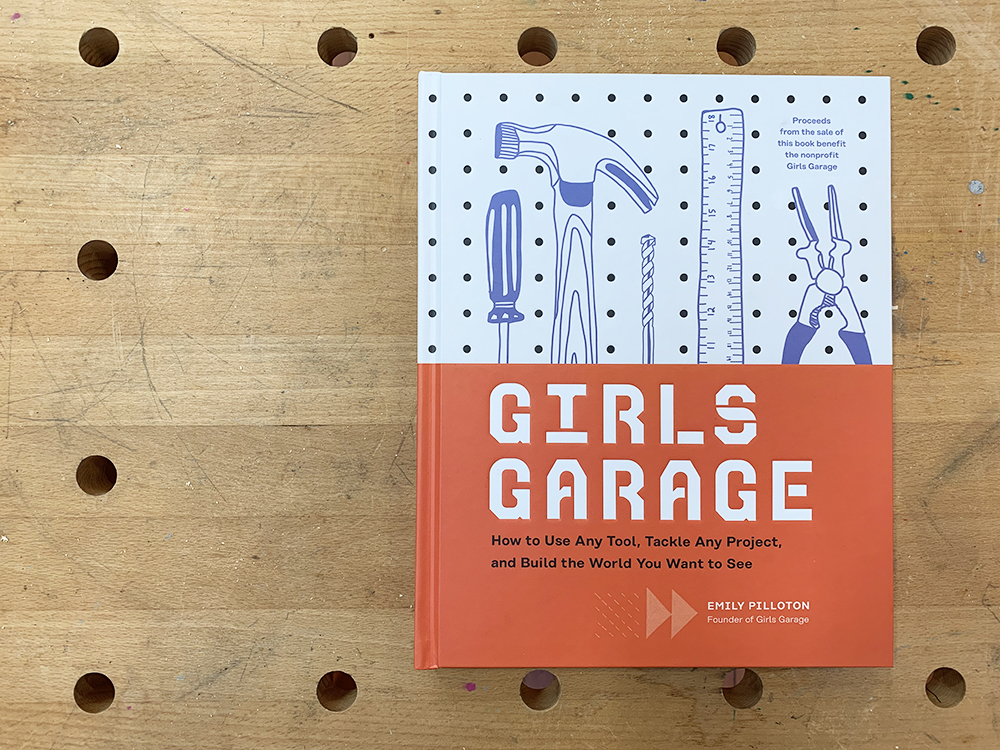 The cover! And those illustrations!
We worked with the magnificently talented Portland-based illustrator, Kate Bingaman-Burt, who hand-drew hundreds and hundreds of tool illustrations. A few are featured here on the cover, along with our signature colors, bespoke patterns, and custom typeface that can also be seen on the front of our building and all over our workshop space.
You'll notice that proceeds from the sale of the book directly benefit our programming, so don't forget to pre-order!
---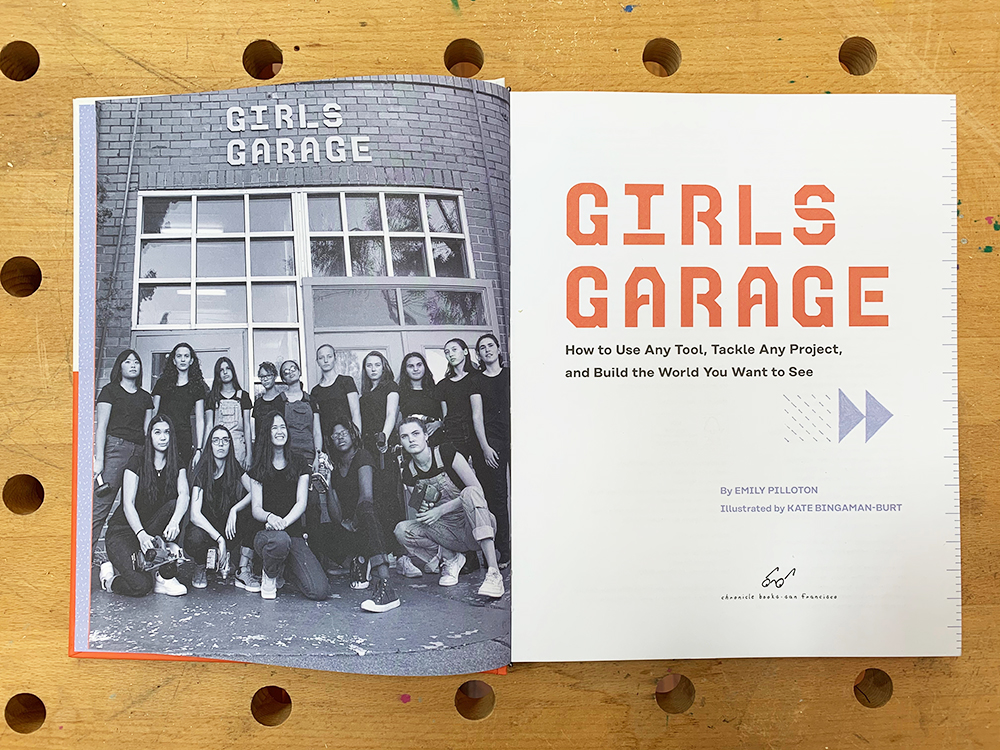 Our girls, front and center
On the inside cover, there is a prominent photo of our current cohort of Advanced Design/Build girls. Many of the girls in this picture have been coming to Girls Garage since they were 10 years old, since the very first class ever in 2013. We thought it only fitting that their image and girl power set the context for every page to follow. A few of these girls inspired the entire book, actually, back in 2015 when we sat around a table drawing our favorite tools and dreaming of "maybe publishing a book about building for girls someday."
---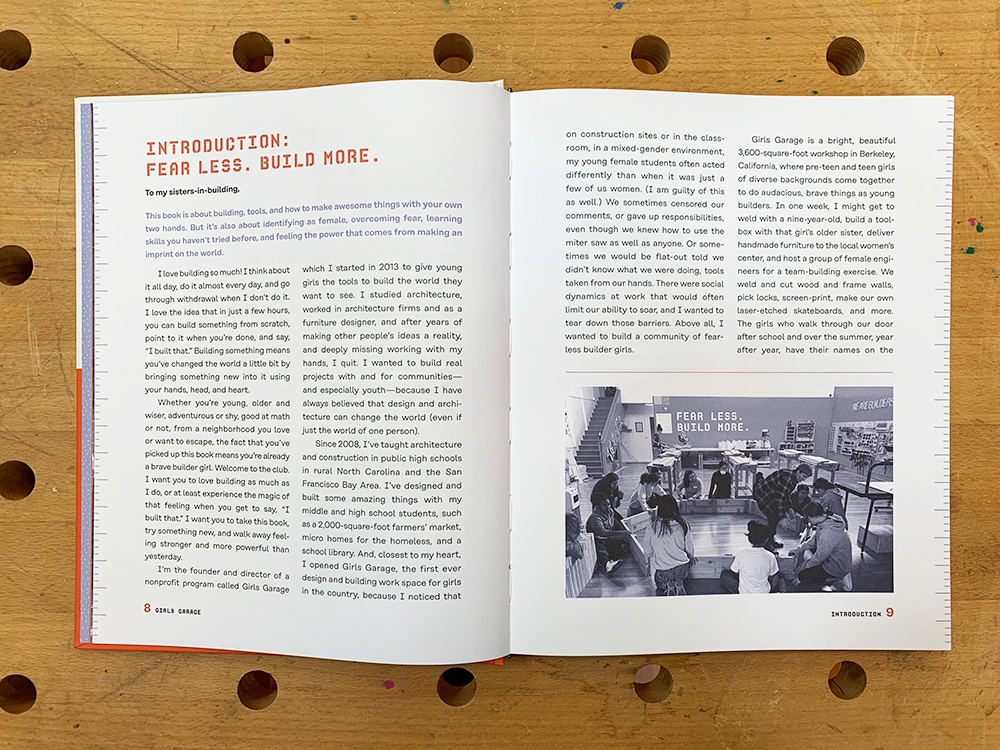 A letter from Emily to fearless builder girls everywhere
The book opens with an essay from our founder, Emily Pilloton, for whom the work of building with young girls and women is urgent, personal, and her greatest passion. In the essay, Emily invites girls to self-identify as builders and tells the story of her own experience on construction sites, including a life-defining moment when she was 16 years old. She also tells the story of Girls Garage as an organization and how this book is an extension of our mission and community.
---
Safety rules are your best tools!
The first and most important section of builder content is a safety guide! From protective gear to smart work habits, this section includes a robust guide to keeping you and your builder buddies safe through all your projects.
---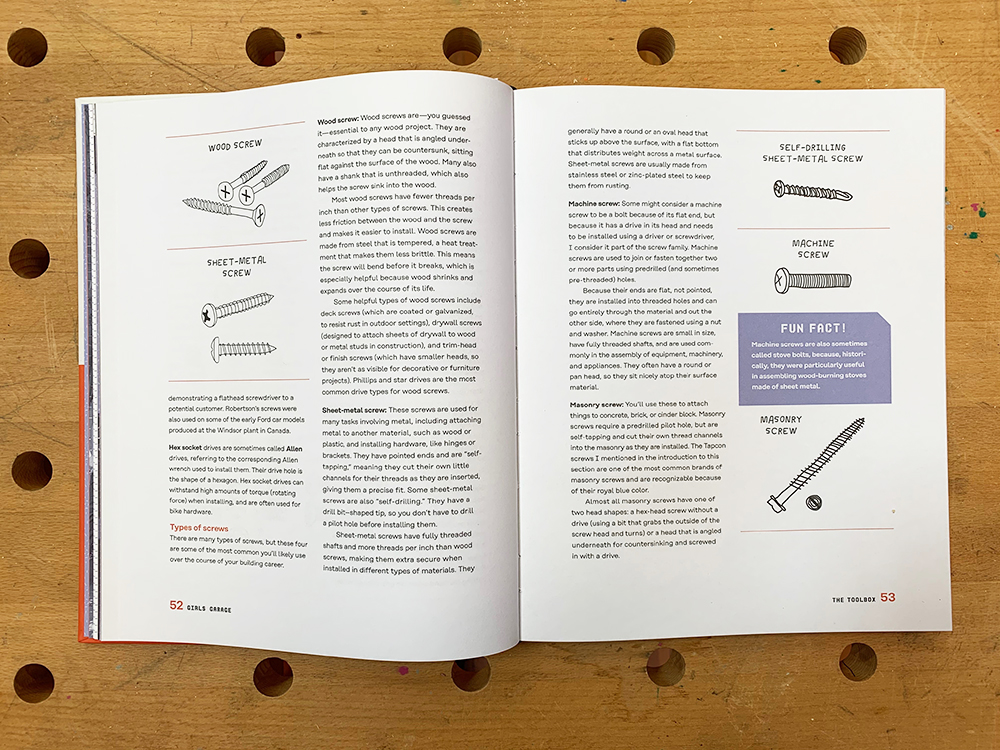 Nails, screws, and bolts, oh my!
Have you ever wondered why or how there could possibly be so many different types of hardware? Why are screws different than nails? And is a lag bolt really a screw? And what's with the sizing of nails in "pennies?" The hardware section of our book breaks down all the types of hardware you'll need for your building projects, including fun facts about their history and uses.
---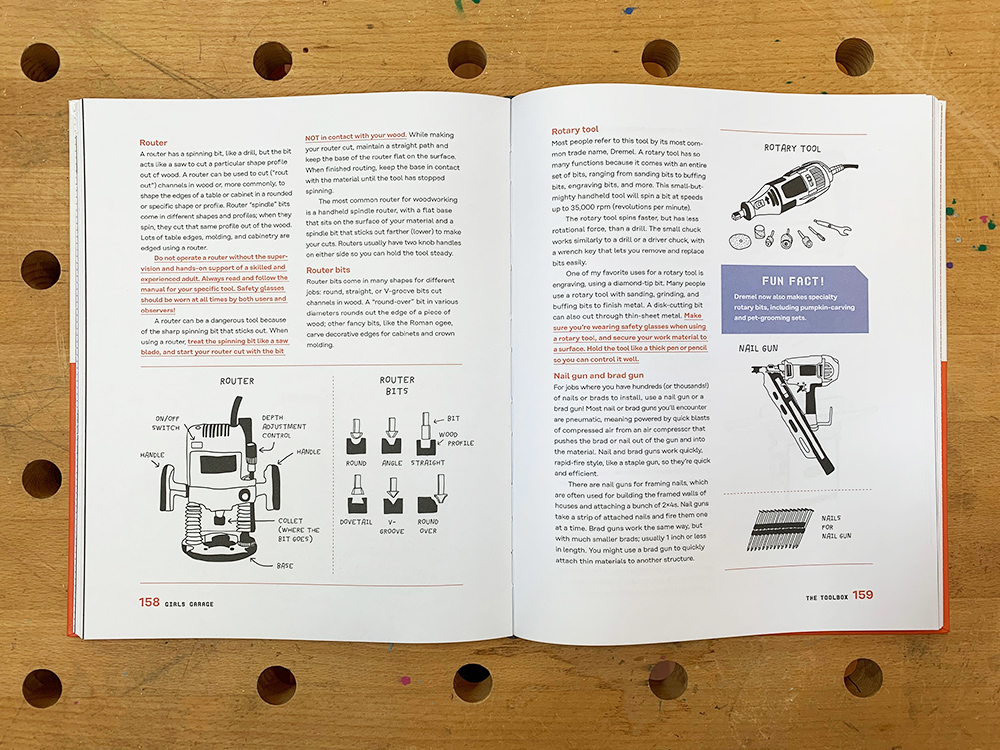 Power tools!
Following hardware, you'll find dozens and dozens of encyclopedic tool guides, including hand saws, screwdrivers, and the big power tools: chop saws, routers, drills and drivers, lathes, and more. Embedded in each tool's "story," there are notes about which tools are safe to be used by girls under hands-on adult supervision and which should be used by adults only. Each illustration shows all the parts of a tool, too, because vocabulary is knowledge and knowledge is power! Spoiler alert: did you know that the jigsaw was invented by a man who replaced the needle in his wife's sewing machine with a blade? And thus one of our favorite tools was born!
---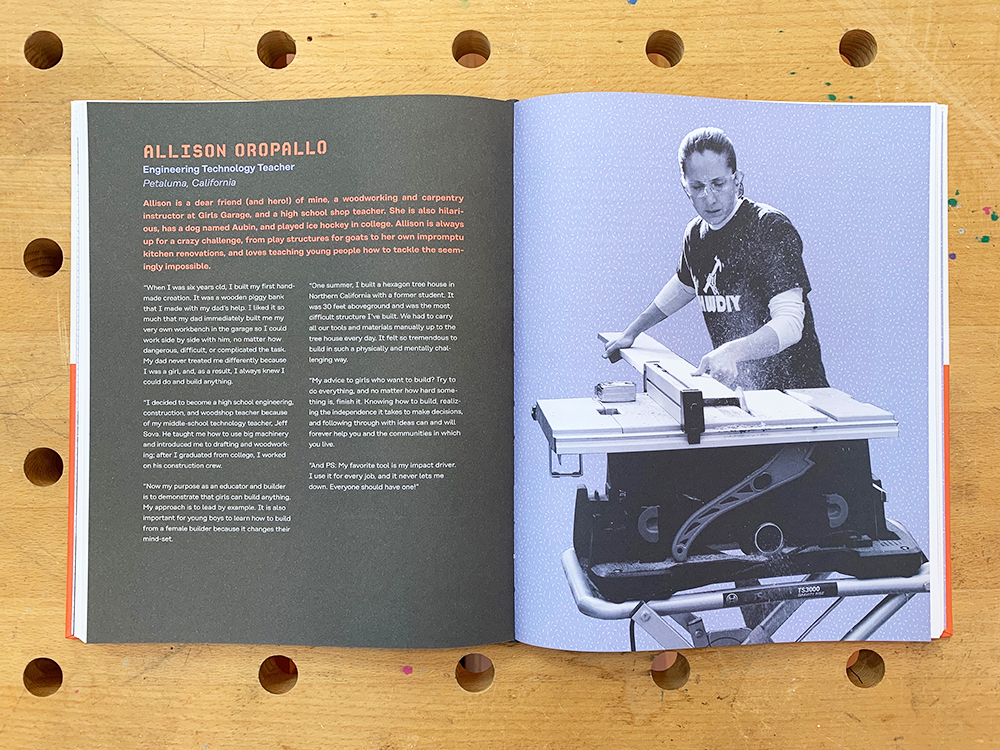 "You can't be what you can't see"
There are 15 profiles of incredible builder women in the book. As a group, they range in age from teenagers to near-centenarians who come from diverse backgrounds and have all kinds of awesome skills. Individually, their stories are powerful, unique, and identifiable. None of these women are perfect, but they are all brave. We hope that highlighting these stories helps every girl see herself in this work and in a larger community. Check out our lead instructor, Allison Oropallo, a builder rockstar who loves her table saw and impact driver!
---
How to jumpstart your car and 20 other helpful skills
Want to know how to fix a flat tire, or carry lumber, or get your toilet to stop running? We have you covered! There are so many basic building and repair skills that are easy to learn and will give you a great sense of self-sufficiency and accomplishment. The skills in the book don't result in a finished product in the same way that the project guides do, but they definitely keep your builder mindset fresh and your hands busy! One of our favorite skills is how to pick a lock (for good, not evil)!
---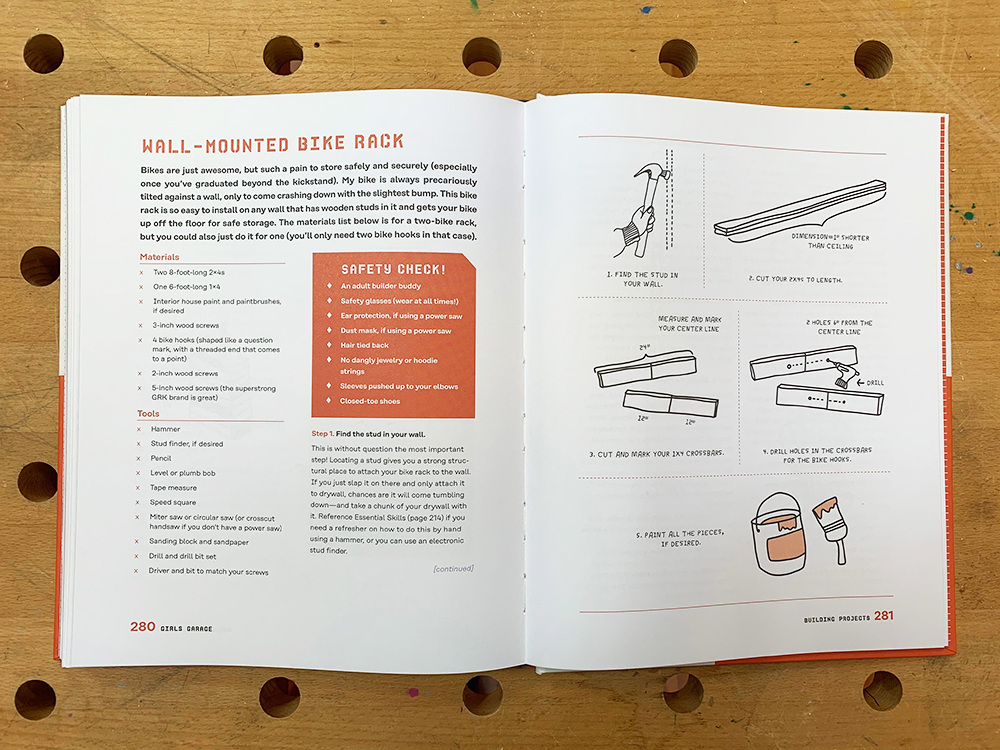 Build-it-yourself projects
The culmination of all the tools, skills, and inspiration is a set of projects (make a bike rack, a planter box, a doghouse, a toolbox) with step-by-step guides to build your own world! These projects are just a start, too, and we encourage you to make them your own and to use your newfound builder knowledge to create your own builder plans and projects. Choose your own adventure and build bravely.
---