2020 was quite the year, eh? Although very little went exactly according to plan, Girls Garage still managed to increase programming, release a book, construct community projects, and launch successful distance programming. While the world went up in (literal) flames, we discovered plenty of ways to stay grounded and inspired. Brilliant as always, our girls and young womxn inspired us with their commitment to social justice and community. Here's a note from our founder, Emily Pilloton:
"At the end of the year, I find myself filled with love. We talk about love at Girls Garage a lot, "leading with love," and how we love our work and our girls. When the world wasn't looking the way they wanted, our girls built the world they wanted to see for themselves."
Without further ado, here are the top 20 Girls Garage moments from 2020!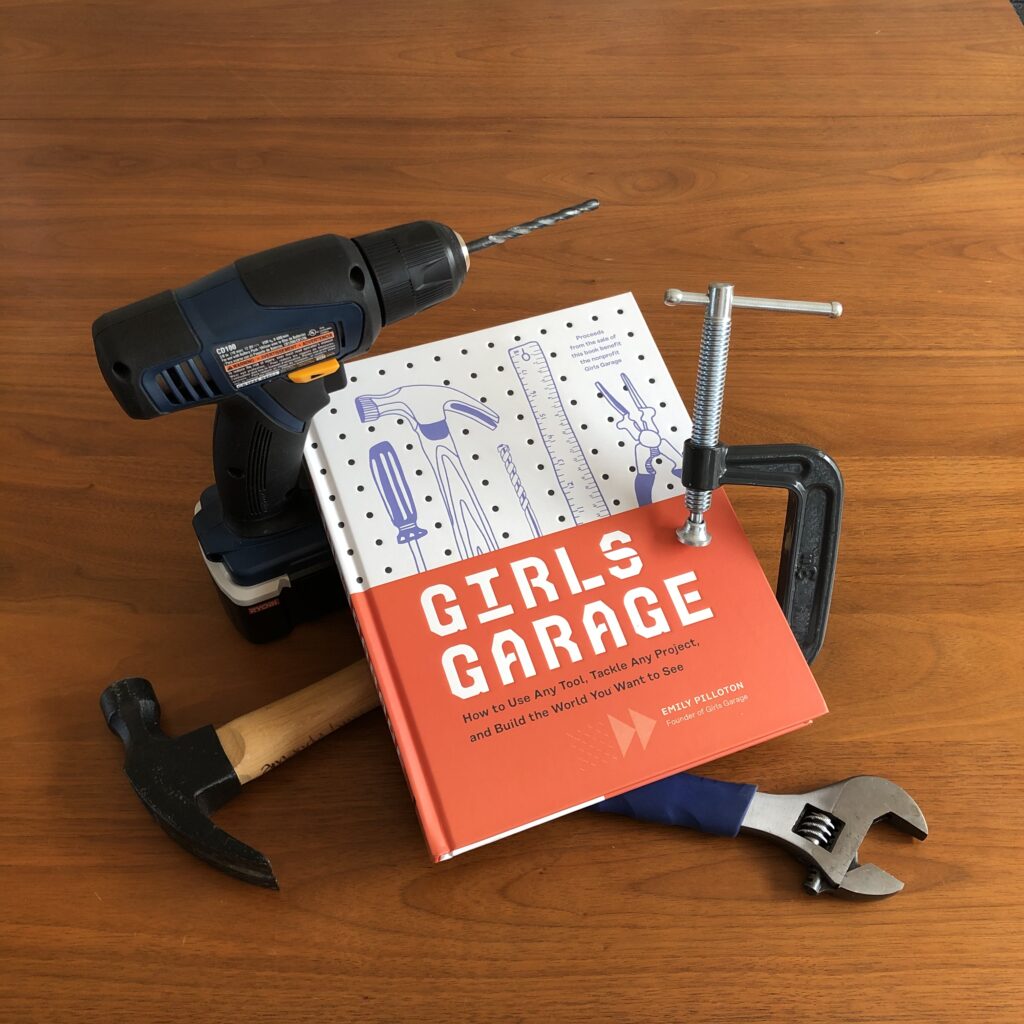 We launched our book!
Our Founder and Executive Director Emily Pilloton wrote a Girls Garage book! From tool identification to building projects to profiles of inspiring builder women, this 300-page book is an invitation for girls to join the fearless builder movement in true Girls Garage fashion: to fear less and build more. Oprah Magazine even reviewed it! Order a copy, and start dreaming big and building bravely.

---

Our girls built a chicken pavilion. 
This summer, our Advanced Design/Build cohort completed construction of a 500-square-foot chicken "pavilion" at Urban Tilth's North Richmond Community farm. Together, the girls and instructors designed the pavilion, taking into account factors like sunlight, weather, and site positioning on the urban farm. The pavilion is the largest physical structure Girls Garage has tackled yet, with enough room to house 50 hens. In fact, the folks at Urban Tilth call it a chicken "palace!"

---

Girls built their own seats at the table.
Every girl deserves a seat at the table, so why not build your own? This summer, 27 girls in the Young Women Design and Building Institute (virtual edition) built their very own wooden chairs. Led by instructors on Zoom, the girls customized their chairs through painting, upholstery, storage compartments, and mosaics. These chairs are more than just a piece of furniture; they're a physical expression of our girls' unique stories.

---

We partnered with the Town Fridge mutual aid project.
This fall, our Advanced Design/Build cohort built a wooden enclosure and pantry for the Town Fridge mutual aid project. Simultaneously, our Protest + Print class created a "Living Monuments" mural to adorn the outside of the enclosure. Town Fridge is a grassroots organization that provides free food for those in need in the Oakland community. Installed outside of Radically Fit in Oakland's Fruitvale district, this community project exemplifies the intersection of power, building, and art activism.

---

We were featured on Good Morning America.
Girls Garage took to the big screen on "Good Morning America!" During the segment, Emily walked the intrepid reporter Amy Robach through the steps of building a birdhouse (a project featured in our book!). We were honored and thrilled to share the Girls Garage book on a renowned national television program and to see our book cover image projected over Times Square!

---

Seventeen girls graduated in the class of 2020. 
17 phenomenal Girls Garage alumnae graduated from high school this past June. Many of whom have been part of Girls Garage since they were 9 or 10 years old! They've now begun their college adventures, and whether they're majoring in civil engineering or legal studies or environmental design, these formidable young women are going to build the world they want to see, and we couldn't be more excited. Congratulations to the fearless builder class of 2020!

---

We made activist art as our form of protest.
Our biggest takeaway from 2020? Youth activism is the future. From powerful work from our Protest + Print class to Black Lives Matter posters to free "I VOTED" posters, our girls used their artistic voices to fight tooth and nail for racial, social, and economic justice. The road to collective liberation isn't easy, but we're humbled and inspired to witness the leadership, determination, and activism of our girls.

---

We embraced distance learning and building via Zoom. 
The pandemic challenged us to find new ways to inspire, educate, and connect with our Girls Garage community—it was a true test in creative problem-solving! Like other organizations, our programming went (somewhat) virtual. We stepped up our media through video series like "Tool School" and at-home design challenges. Additionally, we delivered "take-home" builder kits and toolboxes to our girls. We moved all of our spring and some of our summer classes into Zoom format, too. Whether sheltering-in-place or not, we're committed to expanding our programming for our fearless youth.

---

We gave 27 girls fully stocked toolboxes and raised funds for 100 more.
When our Young Women's Design and Building Institute transitioned to a virtual format, we knew that some of our girls wouldn't have access to the necessary tools. We rolled up sleeves to curate, assemble, and hand-deliver a professionally-equipped physical toolbox to each student. And then something wonderful happened: even after the class, the girls continued to use the tools to build and fix within their own homes. For the Fearless100 campaign, our goal was to provide 100 toolboxes to 100 girls in 2021. And we did it! Thanks to the generosity of 211 donors, we raised over $55,000 within a month. We continue to be humbled and endlessly grateful for the support of our community.

---

We curated kits for at-home building.
To supplement our distance programming, we curated over 200 "take-home builder kits" for builders of all levels. Each kit featured a full set of tools and the materials to complete a specific project, like building your own birdhouse or mini toolbox. Although incredibly challenging, the pandemic has pushed us to find new ways to support our fearless builders from afar! (Missed out on grabbing a starter tool kit? We love this one from Apollo Tools!)

---

The Print Shop grows! 
"Ruth the Risograph" joined the Girls Garage printshop! A risograph is a cross between a screenprinter and a Xerox machine. By printing only one color at a time, the risograph can create vibrant, layered aesthetics. Named after the late great Chief Justice Ruth Bader Ginsburg, Ruth the Risograph expands our activist art programming and allows us to experiment with different ways to amplify our girls' voices through paper and ink.

---

We added Saturday extension workshops (YWDBI).
After our virtual summer session of the Young Women's Design and Building Institute, we couldn't stand the idea of losing contact with our cohort of teen builder girls. So we added a fall extension with 3 Saturday sessions, so that girls could meet in-person to use bigger power tools (like the bandsaw and miter saw). In addition to building wooden planters boxes and welding steel hairpin legs for a side table, our cohort of girls experimented with the risograph machine to create color feminist prints, which we proudly showcased on our front windows.

---

We supported artists-in-residence.
This year, Girls Garage proudly supported 3 artists-in-residence: Laila, Malaya, and Anna. For six weeks, Laila and Malaya collaborated on politically-engaged prints with our new risograph, creating 3 zines and 10 posters. Additionally, they passed their knowledge of Ruth the Risograph to the Saturday Young Women's Design and Building Institute cohort, helping the participants create their own posters. Meanwhile, Anna designed, drafted, and built a free poster box in front of Girls Garage. We're so proud of our three artists-in-residence, and we're excited to see where their activist art takes them next!

---

We held a "Protest + Print" art show at Sphere.
In our Winter (pre-pandemic) Protest + Print class, we asked girls, "What is your biggest, boldest, most beautiful vision for women & girls in 2020?" From menstruation to race to religion, our girls explored and challenged the boundaries of girlhood through handmade, screen printed posters. The course culminated in an art show at women's co-working space Sphere in downtown Oakland. Upon popular demand, Girls Garage sold a limited edition of the prints, with the proceeds going to each individual artist. If you missed seeing them, they're currently on view at Title Nine on 4th Street in Berkeley!

---

We launched a Speciality Shop.
This fall, one of our end-of-year-fundraising efforts was the 2020 Girls Garage End-of-Year a specialty shop, featuring custom and commissioned artwork from some of our favorite female artists, as well as Girls Garage participants and instructors. Whether you're eyeing a cozy knit blanket or an activist art print, the Girls Garage speciality shop is the best place to find unique products and support our girls!

---

Our community of individual donors grew!
The pandemic certainly threw a wrench in our 2020 plans, but our individual donors stepped up BIG TIME. In fact, 67% of our donors were first-timers to Girls Garage! This amazing outpouring of support allowed us to develop our programming and provide opportunities for our girls, even amidst the COVID chaos. Thank you to everyone who supported Girls Garage during such turbulent times!

---

We assembled over 1,500 face shields. 
When COVID-19 hit, Girls Garage knew we had to do something. So we teamed up with a local organization, People's Protective Equipment, to assemble over 1,500 face shields for frontline health workers. The design, called "CapShield," combined a standard baseball cap with a cut and folded piece of acrylic. During such a scary and uncertain time, it was gratifying to use our hands and creative expertise to support  our communities. You can watch our KTVU segment here!

---

We published thought leadership articles, podcasts, and bylines.
From day one, Girls Garage defied the status quo. It's no surprise, then, that we continue to push the forefront of innovation and inclusion in the (mostly white, mostly male) building world. This year, founder Emily Pilloton contributed op-eds, interviews, podcasts, and feature articles to Fast Company, Forbes, IDEO U, and PopTech.

---

We created "Tool School," a video series.
To support our distance learning, we decided to create the video series, Tool School! Throughout these 9 short episodes, founder Emily Pilloton shared and explained all the materials, tools, and techniques to build a simple wooden box. From lumber to chopsaw to the irresistible magic of the speed square, Emily breaks down the basics for our fearless builder girls. Hands-on projects are excellent ways for our girls to continue learning and building during shelter-in-place.

---

We acquired new major equipment.
We received three new major pieces of equipment this year—a MIG welder, drill press, risograph, and chop saw, all in-kind donations from generous supporters! These tools expand our building and teaching capacity for all our girls. (A major thank you to Lincoln Electric, GCI General Contractors, Kelson Foundation, and Joe Hebenstreit, respectively.) If you'd like to donate equipment, please connect with us! We'd love to chat.

---
Alright folks, thank you SO MUCH for all your support during this wild year. Whether you bought the Girls Garage book, donated to the Fearless100, or cheered our  girls from afar, we love and appreciate you all so much. Thank you for helping us do what we love best: inspire girls to fear less, build more. We're looking toward 2021 (our 9th year of operation!) with our chins up and power tools ready.