Back-to-school season means back to Girls Garage, too! In fall session, our students gathered in-person at Girls Garage to build and design in a supportive setting. To serve more students, we added a new class for teen builders: Construction + Community, which will continue through the school year. Although every staff member was fully vaccinated (and many of our students were too), we required every participant and staff member to be masked indoors at all times.
Even in the thick of the pandemic, our students brought the energy and determination to build a better world for our communities. As always, we're beyond grateful to work with these amazing young people and can't wait to build together again!
---
Advanced Design/Build
Our Advanced Design/Build program is a year-round cohort of our most committed builder girls. This cohort brings together 9th-12th grade girls and gender-expansive youth from diverse backgrounds to tackle complex, community-based projects designed and built by the teens themselves. In our fall session, our teens built a stage for Chapter 510, an Oakland-based youth writing and publishing center. For four weeks, our teens measured, cut, sanded, and painted 2x4s in the Girls Garage workspace. They spent the next four weeks building on-site at Chapter 510's new location in Old Oakland. They installed the stage rib-by-rib, working together to build each component. On the last night, the teens presented the project to their friends and family, explaining each step of the process.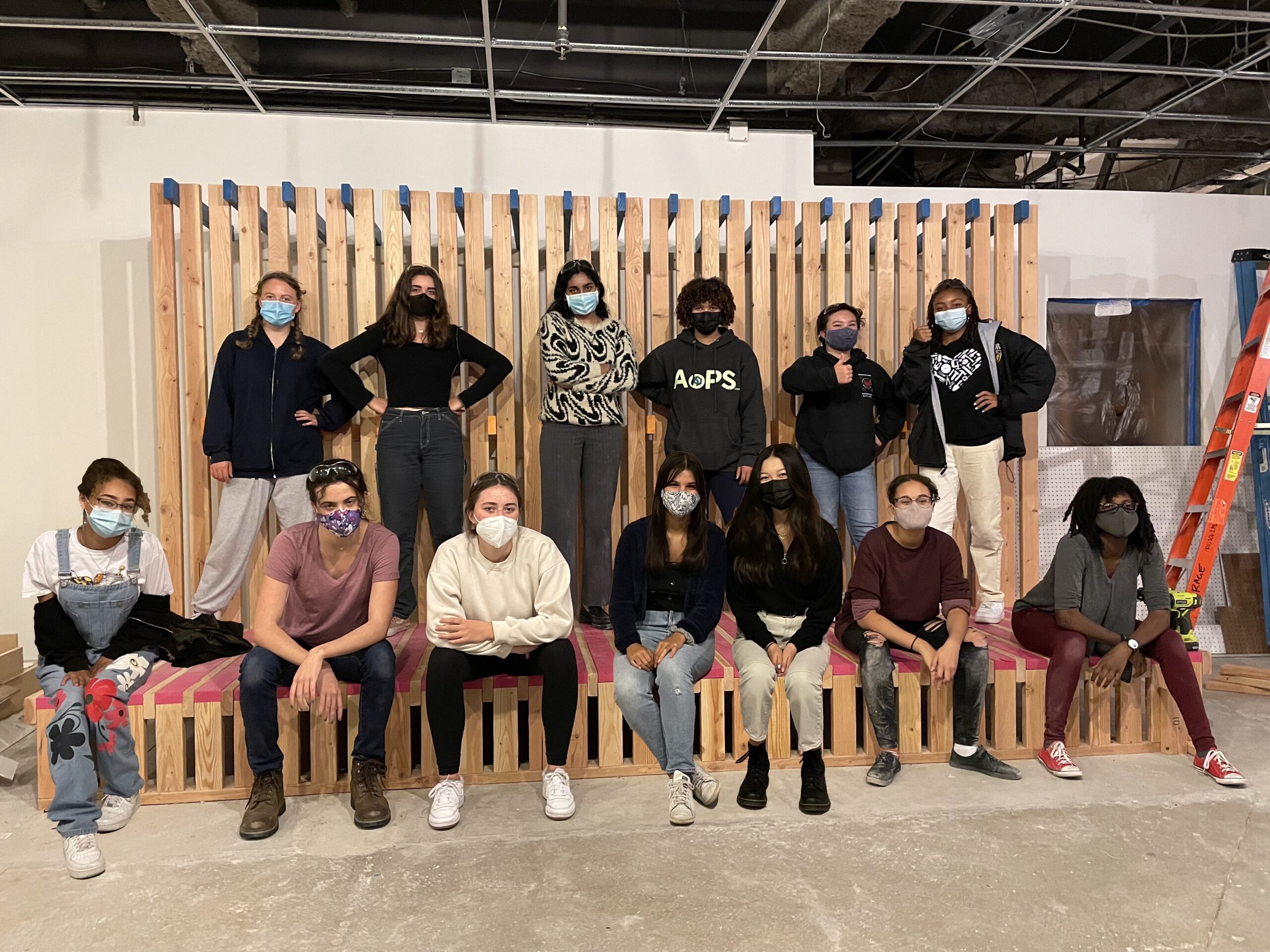 Construction + Community
Our newest class, Construction + Community, was created as a school-year program for 9th-12th grade girls and a complement to our Young Women's Design and Building Institute. The class invites students to learn and practice their carpentry, welding, and fabrication skills in service of social justice organizations in our community. During the first half of fall session, our teen builders honed their carpentry skills by building 2×4 tables to take home. After finishing their individual tables, the students set out to tackle the larger community project: building a farm stand for Urban Tilth, a food justice nonprofit in Richmond. At 7′ tall and 300 pounds, the farm stand was no small feat. Our teens built the frame, secured the roof, built and attached the wooden boxes, and laid down each rib, one at-a-time. The folks at Urban Tilth were thrilled with the structure, which will be used to provide free seedlings to local educators in the area.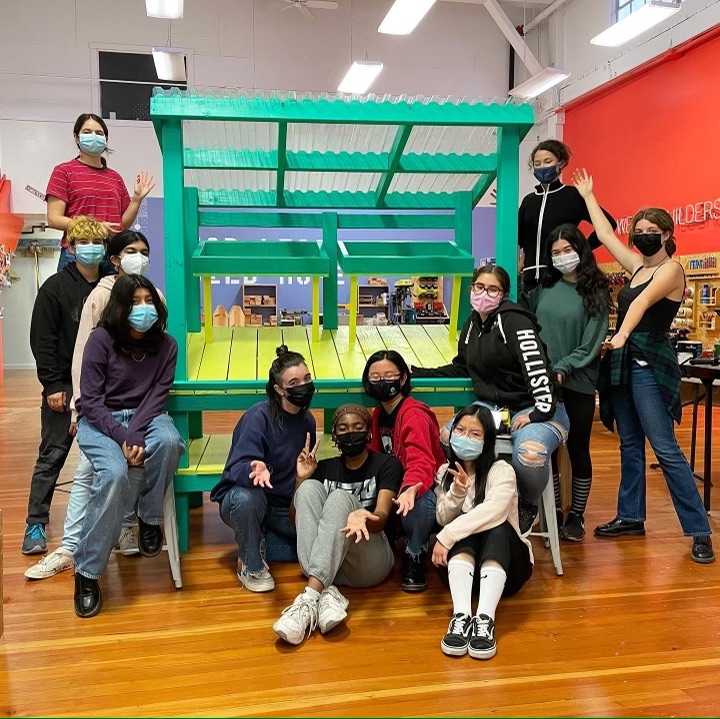 Protest + Print
In our fall Protest + Print class, our students tackled a multimedia print project titled, "In/Tension." Inspired by artists like Sister Corita Kent, AfriCOBRA, Edgar Heap of Birds and others, our activist artists screen printed vibrant, expressive shapes onto 11×17 posters and then overlaid text from a linoleum block carving. For many students, it was their first time screen printing and block carving; arts instructor HyeYoon Song carefully explained the negative space logic of printmaking and showed the students how to safely use carving tools. The final artworks were beautiful, powerful statements on navigating multiple (and sometimes conflicting) personal truths.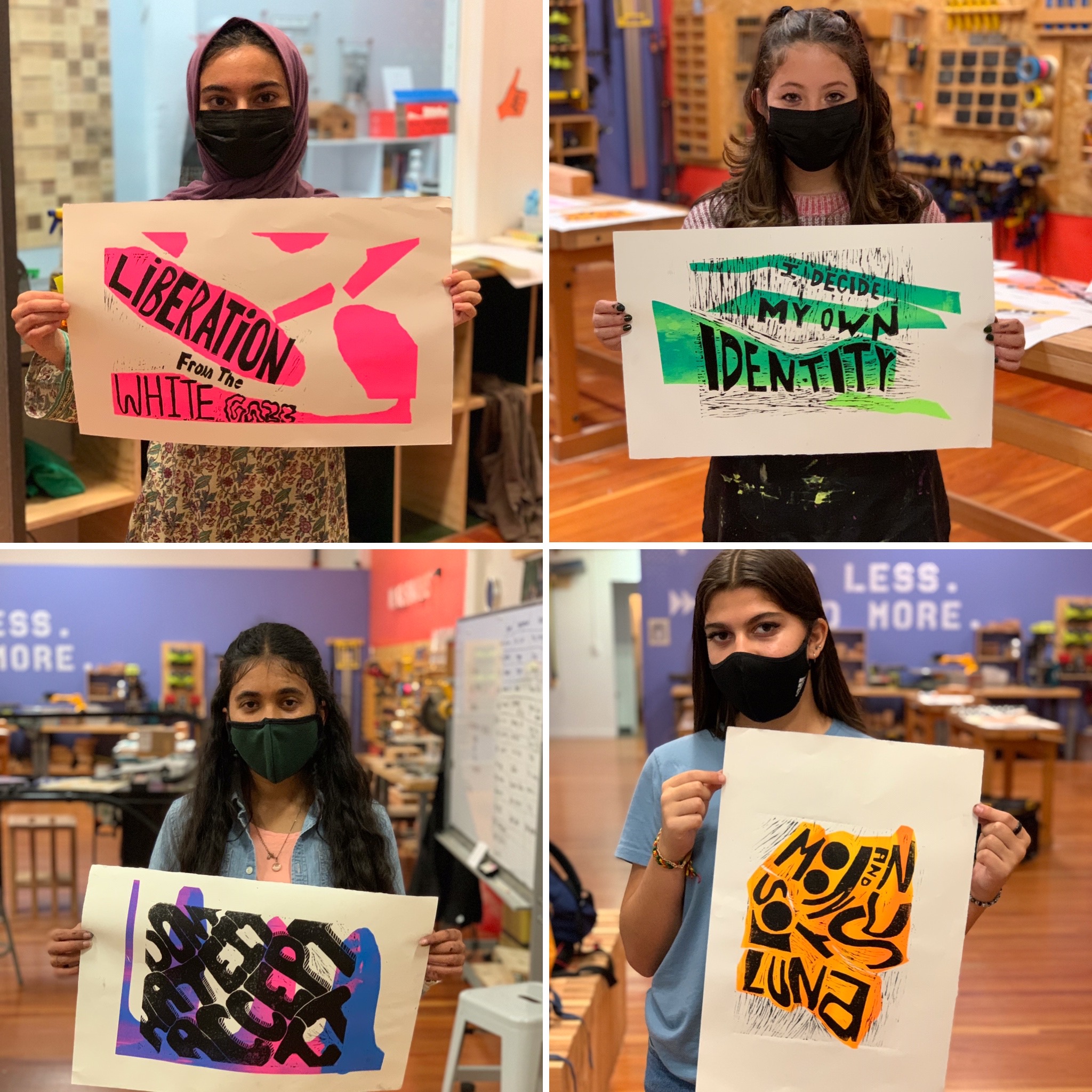 After-School Carpentry and Woodworking (ages 9-13)
In our after-school carpentry and woodworking class, our young builders constructed their very own 2×4 tables. The students measured, cut, and sanded the lumber, which they then pocket-holed. Splitting off into pairs, the students helped each other build their tables, rib-by-rib. The table-building exercise was an excellent way to get our young builders acquainted with power tools like the miter saw, drill and impact driver, but it was also a marvelous example of teamwork in construction.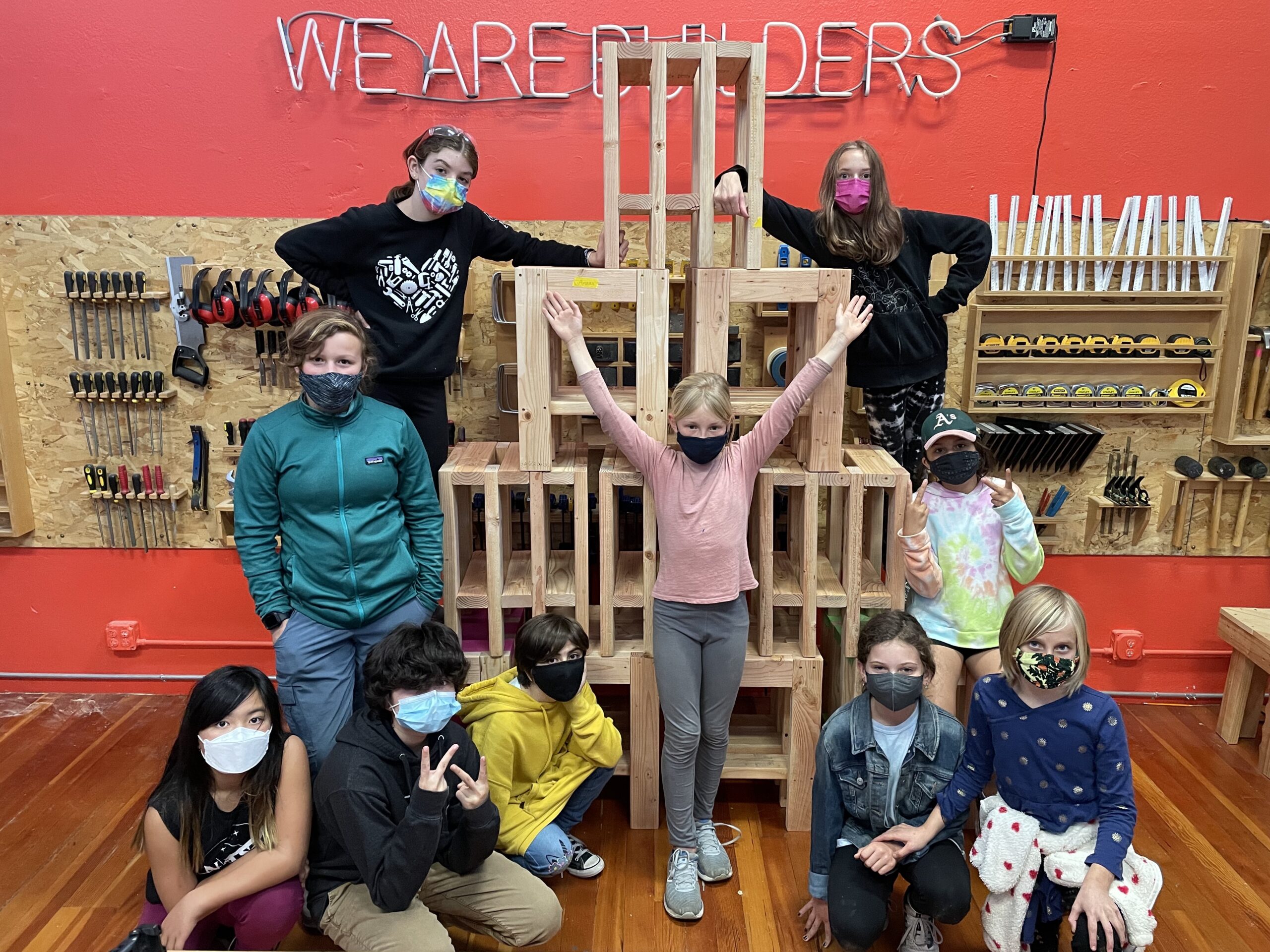 ---
As the days grow shorter, our staff is hunkering down at Girls Garage to plan what comes next in 2022. Registration and applications for winter classes opens December 1st!
In other news: